Douglas County commission waives bidding process for jail to seek out new medical service provider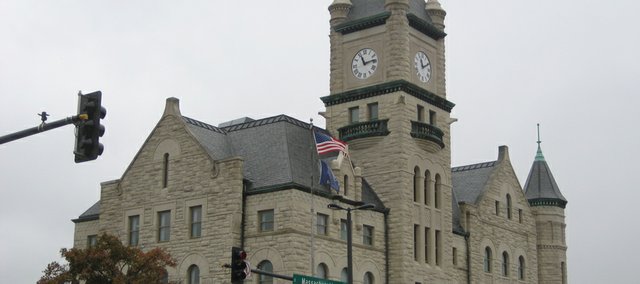 County commissioners on Wednesday unanimously agreed to waive a bidding process for the Douglas County Sheriff's Office so the agency can sign with a new inmate medical services provider quicker than normal.
Currently, a combination of local doctors, nurses from the Visiting Nurses Association (VNA) and professionals from Bert Nash Community Mental Health Center provide the jail with nursing, medical and mental health coverage, said Sheriff Ken McGovern.
In January, the jail's budget was approved for 24-hour medical personnel coverage, McGovern said. But with scheduling challenges and potential future staffing changes, it's difficult to ensure around-the-clock coverage.
If a doctor is sick or a nurse decides to retire, McGovern said, finding a replacement willing to work inside the jail or treat inmates can be a challenge.
"It takes a special person to come in and work," he said.
Because providing consistent medical care to inmates is such an important responsibility for the jail, it should be a priority to find a company that can fill the void as quickly as possible, McGovern said. And the bidding process typically used to solicit new medical professionals is slow.
"If our doctor was to leave, we'd have to go out for bids and solicit a physician to work in our facility. The same goes with the VNA," he said.
Now, with a nod from commissioners, the sheriff's office will contact two companies directly for service information. Those two companies — Advanced Correctional Healthcare and Correct Care Solutions — are national companies specializing in providing health care in correctional settings, McGovern said.
In addition, both companies have experience in Kansas and have helped treat Douglas County's inmates, who have been housed by other counties in the state.
Commissioner Jim Flory said it makes sense for the sheriff's office to discuss services with the companies as a way of seeing what options are available between the current system and moving toward staffing an in-house program for the jail.
"I think we certainly would be well advised to go ahead and see what kind of proposals they can come up with," Flory said.
Commissioners also:
Approved a contract for a company to take ariel photos of Douglas County, which can be used as a map and with the county's Geographic Information Systems.
Approved annually-requested cereal malt beverage licenses for Flamingo Enterprises, The Clinton Marina and The Clinton Submarina.
Commissioners meet each Wednesday in the Douglas County Courthouse, 1100 Massachusetts St., at 4 p.m. The meetings are open to the public. A full agenda can be found online at www.douglascountyks.org.