BCRC

seeks donors for Adopt-A-Child program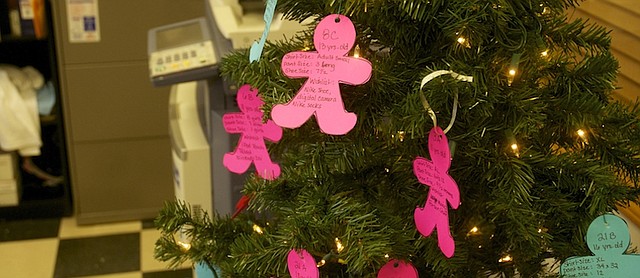 The deadline is approaching, but local residents can still help make Christmas a merry time for community children through the Baldwin City Recreation Commission's Adopt-A-Child program.
BCRC recreation specialist Tammy Michael said the deadline to adopt a child or children through the program is Nov. 30. She plans to distribute gifts collected on Dec. 4.
To participate, individuals, organizations or businesses choose a cutout representing a child on a Christmas tree in the BCRC office, which has information of a child's age, gender and wish list of the gifts the boy or girl hopes to receive for Christmas. Donors can either provide one or more of those gifts or donate cash so that Michael can make the purchase.
This year, the Adopt-A-Child program replaced the BCRC's previous Adopt-A-Family program because "Christmas is about children," Michael said. The number of cutouts on the tree provide evidence of the need for the program,
"We have 70 children on the tree," she said. "They all live in the Baldwin school district. We still have quite a few who need to be adopted."
Donors wanting to adopt the remaining children or provide additional gifts to others once all are adopted can do so through her at the BCRC office, 705 High St., or by phone at 785-594-3070. Michael said.