Baker football team finishes 10-1, open post-season at home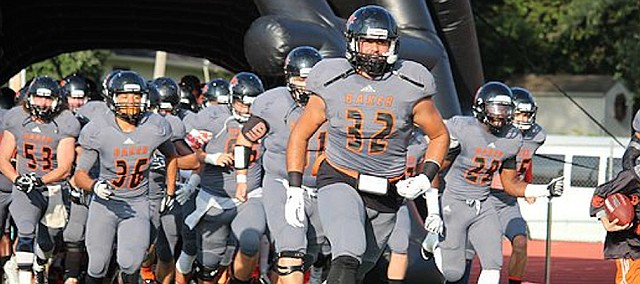 The No. 2 ranked and 2015 Heart of America Athletic Conference Southern Division Champion Baker University football team will begin NAIA post-season play at home against No. 18 ranked Point University (Ga.).
The first-round NAIA Football Championship Series contest will kickoff at noon Saturday at Liston Stadium.
This marks the 14th time the Baker football team has qualified for the NAIA Playoffs. Baker is 7-6 all-time in the first round.
The Skyhawks are from West Point, Ga., and went 8-2 overall and a perfect 5-0 in The Sun Conference, winning the conference championship.
The Wildcats enter the FCS with a record of 10-1 and went a perfect 5-0 in the Heart South. This is the third FCS Playoff appearance for the Wildcats in the last four seasons. The conference title was its second in the last three seasons.
The Skyhawks went 2-0 this season against teams ranked in the NAIA Coaches' Top 25 at the time they played, as they defeated No. 23 ranked Webber International, 24-21, on the road on Oct. 17 and defeated No. 25 Southeastern University, 66-34, at home on Oct. 24.
Baker went 3-0 against opponents that were ranked at the time of the contest, including a 20-15 win at No. 6 Grand View in the 2015 season opener, they also posted a 48-13 win at home against No. 18 William Penn and a 35-10 win on homecoming against No. 20 Peru State.
Fans can watch the game at 12 p.m. CST next Saturday, Nov. 21 at the official website of Baker Athletics
Two Wildcats earned this week's Heart Offensive and Defensive Player of the Week awards, as Darrian Winston was named the league's top Defensive Player, while Adonis Powell earned the Heart Offensive Player of the Week.
Powell ran 32 times for 177 yards and caught four passes for 27 yards in Baker's 38-35 win at Evangel last week.
His touchdown run for six yards with 48 seconds remaining sealed the deal for Baker and helped them move to 10-1 overall and a perfect 5-0 in the Heart South.
Winston was a force for the Baker defense with two interceptions in the second half, his fourth and fifth of the season. He also had two pass deflections including a pass break up on Evangel's final possession of the game.