Baldwin High School students to present classic musical 'Oklahoma!'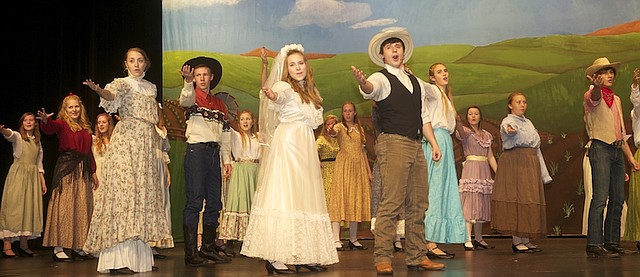 Baldwin High School students will perform the musical "Oklahoma!" this weekend, complete with singing, dancing and roping.
Katherine Cook, BHS communications arts teacher and fall musical director, said that last feature was an added fun attraction gained from the selection of Richard Rodgers and Oscar Hammerstein's 1943 classic.
"We had a student who brought in ropes and is coaching some of the cast," she said. "We are going to have some roping. I'm not saying we're going to be experts, but good enough to have on stage."
The musical will be performed at 7 p.m. Friday and Saturday at the district's Performing Arts Center. Admission is $7 for adults and $5 for students and children.
Cook said math again played a role in why she chose "Oklahoma!" for this year's fall musical. About 50 students will be a part of the performances.
"'Oklahoma!' allows every kid who wants to be in the show a chance to be a part of the musical," she said. "Besides, it's great fun. It's high energy, and I think the kids enjoy that."
It's a selection that was popular with the cast. Senior Megann Lawrenz plays Ado Annie, one of the musical's two female leads trying to resolve love triangles. A cast member in the school's last two fall musicals, Lawrenz said she would perform four songs for the play.
"It's a little sad because this is my last high school musical," she said. "I'm glad it's 'Oklahoma!' It's been so much fun. The costumes and the songs are great."
Senior Wyatt Slavin, whose character Curly McLean wears boots and a holstered gun, said the musical allowed him to relive watching TV westerns with his grandfather. His role requires versatility, too, as he will perform numerous songs, including the musical's opening number "Oh, What a Beautiful Mornin."
A veteran of a number of community theater presentations in Baldwin City and Lawrence, Slavin is a playing character who is competing with the menacing Jud Fry (Drew Villaca) for the affections of Laurey William, played by junior Hannah Parks.
Villaca said the chance to play a villain appealed to him.
"He's not a sympathetic character because he's just weird and creepy," he said of Jud. "It's fun to play a real creep."
Parks, too, is embracing her character, who complicates her relationship with Curly with her flirtations with Jud.
"I'm very conflicted," she said of her character. "I like how she stays true to what she wants.
"It's a great part to play. I've really enjoyed it. It's been a wonderful experience. The cast is really talented, and I think the show is really coming together."