Baldwin City Recreational Commission representatives update school board on community center project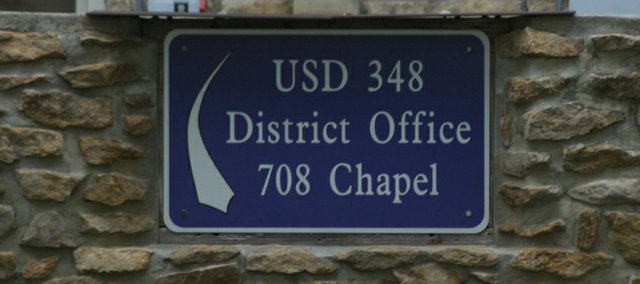 The Baldwin City Recreation Commission made its promised pitch Monday for a community center to the Baldwin school district.
Earlier this month, BCRC board chair Ginny Honomichl and BCRC executive director Steve Friend made the case for a community center to the Baldwin City Council and secured its unanimous support to explore all options to fund the center's construction and operations. At that time, Honomichl said the school board also would be approached about the renewed drive.
On Monday, Friend and BCRC board member and former Baker University athletic director Dan Harris made that promised presentation. It came as the BCRC board was set to consider at its meeting Wednesday the hiring of an architect to develop preliminary plans and cost estimates for a community center.
The decision to move forward with a new facility was made after two architects viewed the old South Gym on Chapel Street. Both agreed there were too many issues with converting the building, Friend said.
Harris said the project would be a collaborative effort of BCRC, the city, school district and Baker University with all contributing to and benefitting from the community center.
The school district's contribution would be property, and Harris shared a written summary the proposed project that suggested the center be located on one of three unused properties the district owns. They are the Ruhlen property north of the high school; a property once earmarked for a community center at Bullpup Drive and Elm Street; or the vacant city block east of Sixth Street between Chapel and Dearborn streets. All three sites had advantages and disadvantages, but the vacant Sixth Street lot was the probably the best location, Friend said.
Baker's contribution would be through student fees for use of the community center, for individual students and such group activities as cheerleader practice, Harris said. Those fees could contribute from $75,000 to $100,000 of the center's annual staffing and operating costs, he said.
He has visited a number of community centers in Midwest college towns that have such collaborative arrangements, Harris said. The facility could be a big plus for Baker because a recent survey found recreational opportunities was the No. 1 consideration of prospective students when choosing a college, he said.
Harris said Baker President Lynn Murray was supportive when he discussed the proposal with her and would bring the matter to the university's board of directors at its next meeting.
Meanwhile at a retreat Saturday, the Baldwin City Council listed a community center as its No. 1 capital improvement priority.
As conceived now, the city would own the community center but have the BCRC manage it, which is the arrangement at the Baldwin City Municipal Pool, Friend said.
Although Friend and Harris said there would be a capital campaign to raise private funds for the center, the city would finance the remaining construction cost, probably through a sales tax. That would require a referendum, which Friend said would probably be scheduled for November 2016.
In addition to land, the board would be asked to allow the BCRC to increase by a mill to cover added operating costs at the community center, Harris said. The school board annually approves the BCRC's mill levy because the BCRC board has no statutory authority to impose taxes.
The board also would be asked to appoint two members to a committee of BCRC, city and Baker representatives charged with working through operational issues.
There are no cost estimates yet, but Harris said a $150-per-square foot cost could be assumed. The BCRC is proposing a 30,000- to 35,000-square-foot facility, which would put the facility's total cost somewhere from $4.5 million to $5.25 million, Harris and Friend said.
The process would develop a wish list of possible uses with features to accommodate them, which would later be trimmed, the board was told. Features listed in the report shared with the board were:
• A double gym.
• An elevated three-track walkway.
• Exercise rooms suitable for dance, gymnastic and fitness classes.
• After-school childcare space with a licensed daycare
• Game room/social area for teens.
• Activity area for seniors, youth and community programs
• Three-lane pool with saltwater therapy pool.
• Cardio room with exercise bikes, treadmills and ellipticals.
• Weight/strength room.
• Offices and lobby.
The BCRC would have a series of town hall meetings on the community center early in 2016, Harris said.