Work of Baldwin City artist on display at Douglas County Courthouse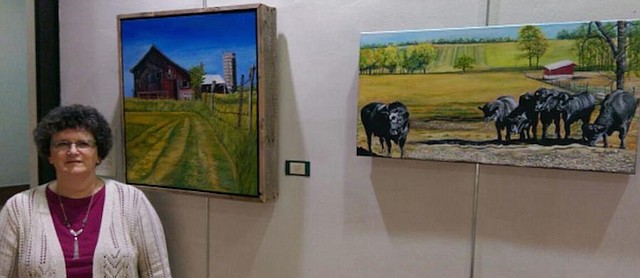 Elaine Engle is bringing some of the Baldwin City area countryside to the Douglas County Courthouse.
The Baldwin City artist hung five acrylic paintings last week in the courthouse, where they will remain on view for the next five weeks. The works depict cows in pastures near Baldwin City or in front of barns.
"This is my first juried show," Engle said. "I'm very excited. I took pictures of farms and cows along the highway. I do have one painting of a barn scene, but it's basically outdoors. I go all around taking photos. I especially love sunsets."
Douglas County Treasurer Paula Gilchrist said Engle was chosen to exhibit in the courthouse as part of an annual call for artists to select work for display in the first-floor treasurer's office and the building's second-floor rotunda. A jury of herself, other county elected officials and County Administrator Craig Weinaug select artists for display, she said.
Engle's work is on display in the treasurer's office, Gilchrist said.
Engle said she became interested in her subject matter when while growing up in Abilene.
"My husband was on a dairy farm," she said. "I grew up in town. When we got married, I started helping on the dairy. I kind of fell in love with the creatures, I've always enjoyed them."
She had an interest in art from an early age, learning on her own and taking private lessons, before going to Kearny State University in Nebraska, Engle said.
"They have an excellent program for art," she said. "I got a degree in art education there."
She teaches art Mondays and Wednesdays to a homeschool group in Gardner, while continuing to work in her home studio. Her husband, Dennis, is a stone carver who has recently started working in the hot wax medium of encaustics, Engle said.
Although she still loved to paint cows, Engle said she was looking to start painting horses, sheep, llamas and other animals found on south Douglas County farms. She also is expanding her art in a more abstract way, which will be part of a show in the Gardner bistro Ground House.
"It's working with blending of colors," she said. "I'm taking actual coffee filters and attaching them to canvas and working around them. It's a different expression of art.
"I'm always looking for different ways to express the creation God has placed in front of me."