Baker football team improves to 9-1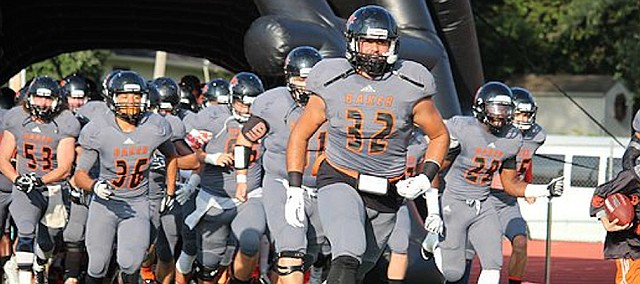 The No. 3 ranked Baker University football team shut out Missouri Valley, 26-0, on Saturday afternoon to move to 9-1 overall and 4-0 in the Heart of America Athletic Conference Southern Division and earned at least a share of the Heart South Conference Championship.
With a win next week at Evangel, Baker would move to 5-0 in the Heart South and would earn the conference title outright.
The Wildcat defense put together one of the best performances in the NAIA this season, as they held Missouri Valley to just 97 total yards and a negative 33 yards rushing.
Kharon Brown led Baker with seven tackles and the Wildcat defense collected 16 tackles for loss, 2.5 tackles for loss more than its season-high 13.5 against MNU back on Oct. 24.
Damon Nolan put the first points on the board for Baker with a 48-yard punt return for a touchdown. Then Nick Marra ran in a 1-yard TD to put the Wildcats up 14-0.
Baker then tacked on two points on a safety. After a Clarence Clark 42-yard field goal, Baker led 19-0.
Baldwin High School graduate Cornell Brown added another touchdown run as Baker pulled ahead, 26-0, and the Wildcats won its fifth-straight game this season.
Quarterback Nick Marra went 11-of-23 for 68 yards, while Brown led the team in rushing with 63 yards. Adonis Powell ran for 55 yards.
The game featured 19 punts with 10 off of the foot of Jacob Thompkins who had a long of 52 yards.
With the win, Baker jumped to No. 3 to No. 2 in this week's NAIA Football Coaches' Top 25 poll, tying for the highest rating in Baker football program history.
Also joining Baker in the Top 25 from the Heart is No. 3 Grand View, No. 16 Benedictine and No. 19 William Penn.
Grand View's only loss the season came against Baker, 20-15, in the season opener in Des Moines, Iowa.
Baker will take on Evangel next Saturday, Nov. 14 at 1:30 p.m. in Springfield, Missouri
Baker 21, Missouri V. 0
Baker 14 5 7 0 - 26
Mo. Valley 0 0 0 0 - 0
Baker stats
Rushing: C. Brown, 22-63 yards, 1 TD; A. Powell 21-55; N. Marra 4-22, 1 TD
Passing: Marra, 11-23 68 yards
Receiving: C. Clark 5-32 yards, C. Brownn 3-12 yards, D. Nolan 2-19, A. Powell 1-5 yards