Grant spikes Baldwin City new home starts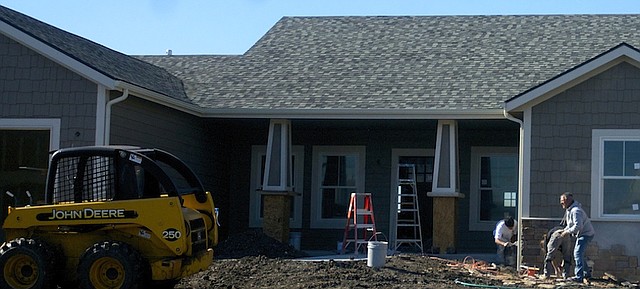 Baldwin City is in the midst of its best year for new housing starts since the start of the recession thanks to a grant the community received earlier this year.
Tina Rakes, Baldwin City codes inspector, said eight permits for the construction of new single-family homes have been issued this year in the city, and construction started on two others for which permits were issued in late December 2014. All but two of those new homes would be financed through a housing grant awarded to the community by the Kansas Housing Authority Corporation and meant to stimulate new home starts. The grant, which totaled $200,000, provides $20,000 to qualifying "moderate-income" individuals or families to be used toward the purchase of a newly constructed home.
Dave Hill, president of Mid America Bank and chairman of Baldwin City Economic Development, said all 10 homes to be built through the grant would be started by the end of the year.
"It's been a big success," he said of the grant he helped secure. "It's added $2.3 million to the tax rolls for the city, which is about 1 percent of the total value."
The grant gave Baldwin City a one-year stimulus from the housing start doldrums it has experienced for the past decade. Although often associated with the 2008 recession, the slump started in Baldwin City when gas prices soared in 2006, Hill said.
The grant stimulus will soon be gone, but Hill is optimistic the city can maintain a pace of eight to 10 new home starts for the next three to four years and that new homes starts in the rural areas of the Baldwin school district can perhaps double that amount.
This year's housing starts will be significantly more than the number recorded in the city during the early years of this decade when only one or two new homes were built, but far less than the numbers built in the early 2000s when the Fire Tree and Signal Ridge subdivisions sprung up. Activity peaked with 52 single-family homes and 18 duplexes built in 2003 and 54 new homes in 2004.
Although an annual number of eight to 10 new homes should be Baldwin City's immediate "concerted" goal, Hill said he would like the city to do better.
"I think Baldwin could add 10 to 20 new homes a year without changing the community that much," he said. "I think you could argue we have to so that we can pay for some of the things people want."
Hill does see encouraging signs the local housing market is bouncing back. A developer talked to him last week about a building a 20- to 30-unit rental duplex development for low- to moderate-income individuals and families. Although Baldwin City currently has no industrial property to offer, it would benefit from industrial growth in Edgerton, Wellsville and Ottawa, which are positioned to take advantage of opportunities created by the Burlington Northern Santa Fe Railway's Intermodal and associated Logistics Park warehouse complex in Edgerton, he said.
"All the area between the BNSF and interstate (35) in Wellsville has been zoned commercial," Hill said. "Baldwin City residents are going to wake up someday and learn some company is coming to their doorstep in Wellsville with 500 to 1,000 jobs."
The Intermodal and Logistics Park were said to be job creation engines when they were first proposed for Gardner a decade ago. At that time, a Southwest Johnson County Economic Development Corporation study found when fully built out the intermodal and warehouse complex would create 3,396 jobs in Gardner and provide the economic stimulus to add another 3,800 jobs in Johnson County.
The promised job creation has been slow to develop, as Baldwin City native and BNSF executive Skip Kalb informed local Chamber of Commerce members on several occasions in the past few years. The twin complexes opened when the Intermodal became operational two years ago, but only 150 of the promised new jobs are linked to the rail yard's operations. Meanwhile, the sluggish economy made companies slow to commit to building in the Logistics Park.
That has started to turn around and the past year. In August, Kubota Tractor Corporation opened a 765,000-square-foot warehouse in the park that is expected to employ 100 people. That same month, the turf care product manufacturer Excel Industries Inc. announced it would locate a warehouse in the Edgerton park that would employ 200 people. A month before, it was announced the e-commerce startup Jet.com would lease warehouse space for a distribution center.
The Intermodal and Logistics Park have added 800 new jobs since the Intermodal opened in October 2013, said Edgerton City Administrator Beth Linn.
That growth has yet to spur any housing development in the southwest Johnson County city. Linn said. Edgerton has had no housing starts this year and developers were not talking to city officials about new homes or subdivisions.
The story is the same in Wellsville, which was awarded the same $200,000 housing stimulus grant as Baldwin City. Wellsville codes inspector Wes Brown said there have been no new housing starts in the community this year and no perspective homeowners have expressed interest in the grant.
Despite the current numbers, or lack of them, Linn is confident housing will follow the industrial growth. It takes employees three to four years to feel secure enough with new positions to build new homes near their place of employment, she said.
"That's the industry standard in Johnson County," Linn said.