2 downtown Baldwin City storefronts razed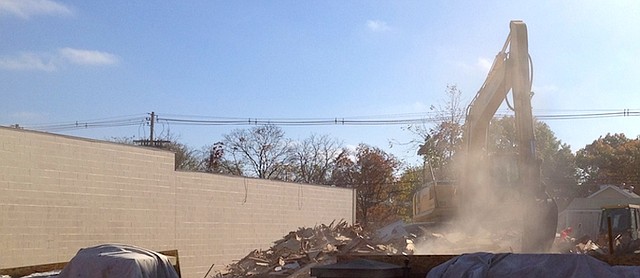 Downtown Baldwin City saw its biggest change in several years with the razing last week to two buildings on High Street.
On Nov. 4, the closed Title and Abstract building at 707 High St. and the old L&M Catering building next door were razed.
Dave Hill, who owns the property, said the two buildings were in disrepair and razed as community improvement projects, Both building were old houses moved to the High Street from other locations and suffered from foundation problems, he said.
He intends to build something new on the site, but it will probably be a few years before that gets done, Hill said. He has been approached with three options for the now vacant lot's use and will work down the list to develop a future project, he said.
In another recent downtown development, the storefront at 705 Eighth St. is undergoing a makeover so that Galen Jardon can open an insurance office in the space. A Baldwin City resident, Jardon said he will continue to have an office in Overland Park as well as the new office in Baldwin City. He said the office should be open at the start of next month.
Jardon is a full-service independent insurance agent.
The opening of the office will leave three empty storefronts in the 700 block of Eighth Street. The building at 725 High St. recently became vacant with the closing of In Focus Photography.
Currently empty storefronts on U.S. Highway 56 should be occupied within six months. Hill said he purchased the strip mall to the west of Mid America Bank. Subway and H&R Block occupy the east side of the strip mall, while the west side is empty. The interior of the west side of the strip mall is undergoing renovation and will be made over into four commercial spaces, Hill said. He anticipates all four will be filled in the next six months.