Baldwin High School cross country team bring home 2 more state titles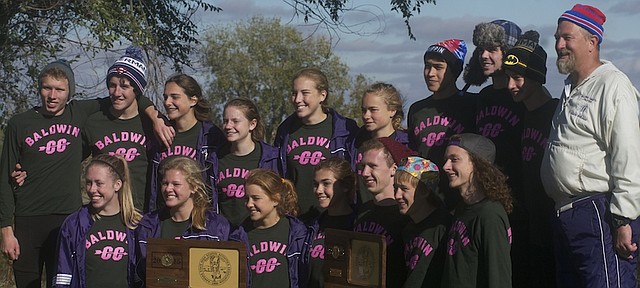 The Baldwin High School cross country team's post-meet activities Saturday say something about the school's rich tradition in the sport.
After collecting two first-place state trophies, the members of the 2015 4A state champion boys and girls teams headed for "the hill." On that prominence overlooking the Wamego Country Club gold course, where the Bulldog runners had competed earlier that day, team members and coach Mike Spielman posed for team photos and engaged in rituals developed by BHS athletes over the years as a way to celebrate their successes. The coach and runners posed with the newly won state championship trophies, and the runners held hands while jumping in the air and then rolled down a slope.
Of course, the school's most significant tradition in the sport in winning, and this year's teams added to that with two state championships. For the boys, it was their third-straight championship and the school's 10th overall. The girls won state for the first time since 2011, which was also the last year both BHS teams won state championships, and earned the school's ninth state title.
The girls were first on the up-and-down Wamego Country Club course. They claimed the team title with 45 points, which was 21 fewer than second-place Andover-Central. The boys ended with 47 points. That was 32 fewer points than second-place De Soto.
BHS coach Mike Spielman said the girls early success help pump up the boys.
"I gives them something to be excited about, and I think it gives them motivation," he said. "The kids ran great today. Today is the result of a lot of hard work. They did what they had to do to get here."
Senior Addie Dick accomplished her stated goal of earning a top-five finish in her last cross country race as a Bulldog, finishing fifth overall and third among team affiliated runners with a time of 19:40.71. Senior George Letner was seventh overall for the boys and third in the team standings with a time of 16:46.40.
"I'm happy," Dick said. "The hills on this course are always a challenge, but I felt good for the most part. I'm glad we got one state championship in my four years."
Spielman said Letner "did what he had to do," but the competitive senior was disappointed with this time and place in his last meet as a Bulldog while happy to lead the team to a first-place finish.
"I didn't feel good today," Letner said. "I went out too fast. It does feel good to be champions again."
Completely happy with his time and finish was senior Nevin Dunn, who was the fifth BHS to cross the finish line. He finished 28 overall, but his 15th-place finish in team scoring was better than three De Soto scorers, ensuring the Bulldogs a three-peat.
"I don't even care what my time and place were," Dunn said after the race. "As soon as I finished, I knew we won. I had no regrets, because I knew we ran well as a team."
Also pleased was senior Dakota Helm, who overcame seasonlong legs problems to medal with an 13th-place finish and time of 16:58.62, which he said was a personal best.
"I felt good," he said. "I tried to make up time going down the hills. As much as I didn't think I would, I really came around at the end of the season.
"We have a lot of seniors on the team. It's a very special feeling, having won state three times. I wouldn't have wanted to run with anybody else."
Also medaling for the boys was sophomore Parker Wilson, who finished 17th with a time of 17:03.83. Finishing just out of medal contention was freshman Jacob Bailey, who finished 21st (17:14.72). Seniors Jackson Barth was 51st (18:14.09) and Phillip Carroll 61st (18:23.58).
Second to finish for the Bulldog girls was senior Mackenezie Russell, who finished seventh (20.04.56). Russell said she was unsure if the girls had held off a challenge from Andover-Central when she finished the race. Andover-Central runners had team finishes of fifth, sixth, seventh and eighth. The Bulldogs overcame that by placing all five scoring runners in the top 15 in the team standing, while Andover's fifth-place runner was 40th.
"I was really nervous," Russell said. "The Andover-Central girls were all packed up. I turned around and saw the Baldwin girls were right there, so I knew it would be close."
Also medaling was freshman Natalie Beiter, who finished 15th (20:17.41) at her first state championship. The other two Bulldog scorers were junior Daelynn Anderson, 22nd at 20:44.20, and Fayth Peterson, 26th at 20:58.52.
The Bulldogs girls other two finishers were junior Taylor Cawley, 39th at 21:22.36 and senior Hollie Hutton, 96th at 23:41.36.