Baldwin City veteran recalls World War
II

experiences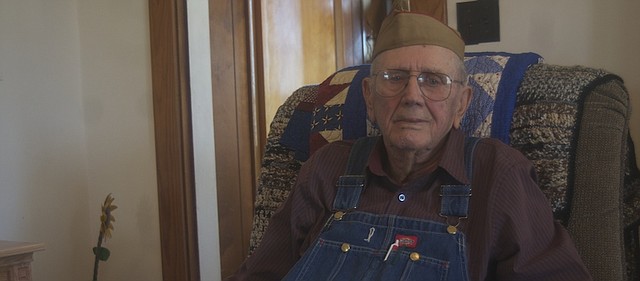 Howard Jehle is one of three surviving World War II veterans in the Baldwin City community, but he doesn't have exciting war stories to relate.
"I joined the Army to see the world," he said. "I saw Oklahoma. You went where they told you to go, or at least you did if you knew what was good for you."
To his regret, Jehle never got far from his boyhood Worden home during the conflict that sent many young men from his generation to the far reaches of the globe. He doesn't regret not seeing combat, which claimed the lives of two community friends, Dudley Deay and George Wingert, but he would have liked to have satisfied his boyhood wanderlust.
Although he didn't know it at the time, Jehle's wartime assignment was sealed when a recruiter signed up the 1940 Baldwin High School graduate to attend a Wichita aircraft school.
"I was in the field sowing oats when a recruiter walked up," the 93-year-old Jehle said. "He asked if I wanted to go to aircraft school in Wichita. I told him, 'Heck yes, it sounds better than this.'"
He graduated from the school before his 19th birthday, the milestone when young men became eligible for the draft. HIs next stop would be an airbase near Hays, where he would put his newly acquired airplane mechanic training to work, servicing Piper Cubs used to train Army glider pilots.
"They would take the planes up at night, cut the engines and glide down to land between two rows of torches," Jehle said. "It was our job to maintain them. I never flew them, but I got awful close. We used to taxi them down the runway fast enough the tail would get off the ground."
After three months in Hays, Jehle was made a member of the Army Air Corps Reverse and stationed in Pittsburg, where he was a crew chief maintaining five Piper Cubs. This time the planes, called Grasshoppers, were used to train pilots as artillery spotters. He would spend 17 months in southeast Kansas, getting three six-month deferments from the draft because he was working in a defense industry.
He and his crews performed maintenance on the Piper Cubs when they logged 25, 50 and 100 hours of operation. When the 100-hour maintenance was due, the mechanics could ride in the planes.
"I had a pilot that put a plane into a spin," he said. "I thought, 'This is it,' but he managed to pull out of it."
Then in mid-1944 as the country needed more men at arms, Jehle was called to the draft. He saw that as an opportunity to travel and planned to join the Navy when he reported for his physical at Fort Leavenworth.
"I wanted to see the world," Jehle said. "But the guy at Fort Leavenworth took one look at my papers and said, 'You're going into the Army.'"
As a result, Jehle found himself stationed in Fort Sill, Okla,, doing the same Piper Cub maintenance he had performed at Pittsburg. He would remain there until his discharge on July 4, 1946. He did make another attempt to satisfy his wanderlust by volunteering in late 1945 to go to Okinawa.
"I wanted to go, but three guys with more seniority volunteered and were sent. They got there just in time for the typhoon," Jehle said of the huge storm that hit the island in October 1945.
Jehle didn't experience wartime travel and adventures, but two childhood friends he grew up with in the Worden German community did. Charles Breithaupt, who joined Jehle in attending the Wichita aircraft school, went on to become a combat jet pilot serving in Korea and Vietnam. Lifelong friend Franz Johanning, who died a year ago, was a guard and interpreter during the Nuremberg war crimes trials. In an account he wrote of his Nuremberg experiences, which can be found in the Baldwin City Public Library, Johanning recounts how former Nazi Air Marshal Herman Georing tried to bribe him into helping him escape.
If he didn't get to travel, Jehle did learn a trade. After leaving the service, Jehle became a mechanic and opened his own garage in Worden in 1955 in a shop that still stands on the north side of the highway.
"I worked on cars, tractors and combines, back when you could still fix them," Jehle said. "I owned the shop for 18 years."
His mechanical ability also played a role in another big life development when his dad told him that neighbor Ernest Butell needed help with his tractor.
"I went over there and noticed this pretty little gal," he said. "That's how I met my wife."
He and his wife, Wincel, were married in 1950 and have two adult sons.
His father-in-law encouraged him to join the Baldwin City American Legion, but he didn't act on that until former Baldwin City barber Bill Whitney recruited him. He remembers when World War II veterans would fill the post. Now only three Baldwin City WWII vets survive: himself, Archie Carlson and Fred Plank.
Although his American Legion activity has slowed in recent years, his wife remains active, organizing an annual Christmas gift drive for veterans and their families. Presents from that drive, which is now ongoing, fill a room in the couple's home. Her dedication traces to her father, who was gassed while fighting in the Argonne Forrest in World War I, she said. He would later serve as an aide to Gen. John J. Pershing, as a framed certificate in the couple's home signed by the commander of the American Expeditionary Force attests.
Jehle is looking forward to Wednesday when he and other local veterans will be honored with lunch at Baldwin Elementary School Intermediate Center.
"I love Veterans Day," he said. "I'll be there."