Baldwin 4A state track updates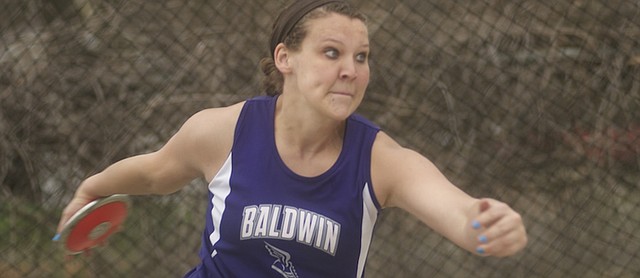 The Baldwin High School girls easily won the school's third-straight 4a track and field title thanks in no small part the Alexia Stein, Jordan Hoffman and Kelsey Kehl's domination of the three throwing events. The three throwers racked up 53 for 85 points Baldwin scored on its way to the state title.
The BHS boys team finished third with 46 points behind state champion Andale (68.5 points) and Bishop Miege (47 points).
Stein concluded her stellar career at Baldwin High School, repeating as state champion in the shot put and discus at the 4A state track and field championships in Wichita.
Senior Hoffman contributed another 10 points with her gold medal winning performance in the javelin with a throw of 133-09. Last year's state champion in the event, junior Kehl, was third (130-03).
The trio of Stein, Kehl and Hoffman were one, two, three in the discus.
The Baldwin girls added another gold in the 4x800-meter relay. The team of Addie Dick, Abby Ogle, Fayth Peterson and Madeline Neufeld finished with a time of 10:03.03.
For the first time in five years, the BHS girls 4x400-meter relay team didn't claim first, but the team of Kyna Smith, Neufeld, Peterson and Cole was a solid second behind Independence with a time of 4:03.94.
When that last race of the day was finished, the Baldiwn girls claimed the team title with 85 points to the 67 of second-place Independence.
On the boys side, the team of Joe Pierce, George Letner, Parker Wilson and Dakota Helm defended the school's 4x800-meter relay title with gold-medal winning time of 8:16.68.For the boys, junior Letner was second in the 3,200 with a time of 9:51.37. In doing so, he finished ahead of Dylan Brenneman of Spring Hill and Luis Murillo of De Soto, who beat him at the Frontier League and regional championships the past two weeks.
The boys 4x400-meter relay team of Pierce, Joel Halford, Darius Johson and Dakota Helm finished second with a time of 3:25.972.
Also scoring points for the Bulldogs was senior Christian Gaylord, who was second in the discus (163-07) and fifth in the shot put (51-06).
Junior Dakota Helm earned the silver medal in the 800-meter run, finishing with a time of 1:57.29.
the Baldwin boys are in second place with 22 points early Saturday afternoon.
Girls:
Javelin: Jordan Hoffman, first, 133-09;
Kelsey Kehl, third, 130-03
Shot put: Alexia Stein, first, 47-01.4; J. Hoffman, 37-09
Discus: A. Stein, first, 142-08; K. Kehl, second, 128-05; J. Hoffman, 116-03
100-meter dash: Carlyn Cole, seventh, 12.74
1600-meter run: Addie Dick, fifth, 5:21.05
Boys
Shot put: Christian Gaylord, fifth, 51-06
3200-meter run: George Letner, second, 9:51.37.
4x400-meter relay: Baldwin, (Pierce, Joel Halford, Darius Johnson, Dakota Helm) second.
4x800-meter relay: Baldwin (J. Pierce, George Letner, Parker Wilson, Dakota Helm), first, 8:16.68.
Keep checking for updates.