Baldwin City pool regulars to see changes this season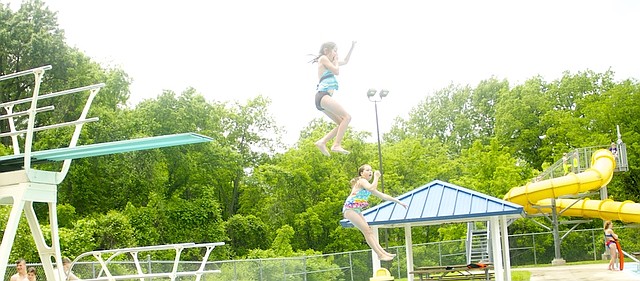 Surrounded by friends Tuesday at the Baldwin City Municipal Pool, Joshua Mayo said the scene had been on his mind often in recent weeks.
"At school, because it was so warm out, I thought about coming to the pool a lot," the 10-year-old said. "It's great. It's a perfect day to be at the pool."
Mayo said it was his second day at the pool. It would have been his third, but Baldwin City Recreation Commission director Steve Friend decided midday Friday to call off Saturday's planned start of the pool season when the high for the following day was predicted to be in the low 60s.
A heater had warmed the pool's water to a comfortable 78 degrees, but Friend said Mayo and the other dozen of so enthusiastic young swimmers who showed up would have had to deal with the cool air when crawling out the pool.
The decision proved sound when an afternoon filled with rain accompanied the cool temperatures.
The pool is open its regular 1 to 7 p.m. hours this week, but the full range of pool activities start Monday. With that, pool regulars will find a couple of popular freebies are gone.
Morning lap swimming, which will be from 6 to 9 a.m. weekday mornings starting June 1, now cost $1 a day or $30 for a seasonlong pass. The pool will stay open late on Wednesdays starting June 3 for the weekly community swim, but there will no longer be free admission for the 8 to 10 p.m. extended hours.
"We lost a little money last year," Friend explained.
Swim lessons also start Monday. Friend said openings remain in some classes, but encouraged those wanting to enroll children to call the BCRC at 785-594-3600.
The youth swim team will also see changes, starting with a new league affiliation. Friend said the team will be in a league with teams from Ottawa, Topeka and Wamego. Its regular season meets will be trianglulars and the season will conclude with a league championship meet in Wamego. The Baldwin City meet will start at 5:30 p.m. July 1.
A number of parents have volunteered to coach the team, Friend said. Practices, which start Monday, will be from 7 to 8 p.m. weekdays except on Wednesdays.