Baker University graduates told they are part of the 'Will Generation'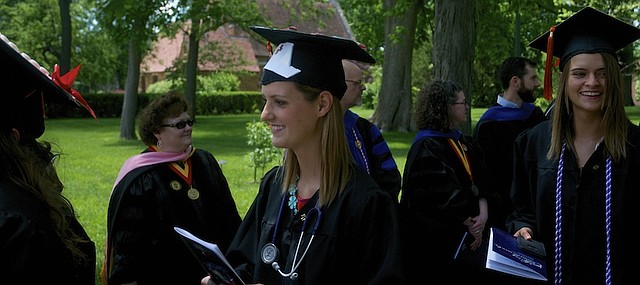 The Baker University Class of 2015 was sent off Sunday with a new name for its generation provided courtesy of commencement speaker Aaron North, vice president of education for the Ewing Marion Kauffman Foundation.
In remarks at the Collins Center on the Baker campus to about 300 senior graduates of Baker's College of Arts and Science, School of Education and School of Nursing, North said the graduates were part of the "Will Generation." Generations seemed to be named for accomplishments or traits, such as the greatest generation for those who fought World War II or his Generation X, which was known as "clever, ironic slackers," he said. Today's college students were said to be Millennials solely based on when they were born, but the young people of the generation have earned a better name from their collective efforts, he said.
"I see a generation that not only can, but one that will," he said. "I'm going to go ahead and call it the Will Generation."
It was a generation with a passion for justice, with many young college graduates putting careers on hold for a few years as they got involved with nonprofits such as AmeriCorps and the Peace Corps, North said. Those traveling more traditional career paths were giving time outside of their workplace to "move the needle" in their communities, he said.
"It means being willing and equipped to make hard decisions about yourself in the service of others," he said. "It means being willing to lend yourself to causes that matter and be owners of solutions. It means this is something you already know, and it's the greatest hope I see when you walk across the stage today."
In her opening remarks to her first spring graduating class since taking charge at the school 10 months ago, Baker President Lynne Murray said she, too, expected great things of the class. Its members would build on the tradition of accomplishment of past classes that produced Rhodes Scholars, Pulitzer Prize winners, multinational CEOs, a Super Bowl winning coach and community leaders, she said.
The class was filled with "special people who inspired me and pushed me to learn," said student speaker Kacee Britton, senior class president. In her speech, she listed the top three reasons Baker had changed her life in a positive way, which she said were universal among the class. She listed learning to embrace change, the opportunity to have a diverse academic, athletic and artistic experience, and finally the people and relationships she made.
"I think we can all agree, the relationships we made here are of the stuff that lasts a lifetime," she said. "Some call it Baker magic, but I think we are a community that has perfected the art of respecting and hearing one another."
As she said goodbye to the class at the end of the ceremony, Murray said the close-knit nature of the school made the day "bittersweet."
"You are excited to graduate, but I'm sad because I have gotten to know so many of you," she said.
Standing in front of the Collins Center soon after the ceremony, Colter Schacher, a business and secondary education graduate who will teach at Adrian, Mo., High School next year, said Murray's words were on the money.
"This place, it's family from the minute you step on campus until the minute you leave," he said.