Former Baker president honored for role in bringing university chapel from England
No less an authority than Robert Osborne, the man who made it financially possible, initially thought it an impractical undertaking to bring a 19th century English village church to the Baker University campus to serve as the school's chapel.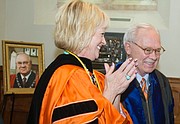 "He told me later that when I first approached him about it, he thought I was nuts," former Baker University President Daniel Lambert said Thursday when recalling the events that led to the relocation to the Baldwin City campus of what is now called C. Osborne Chapel. "He also said that after a year or two, 'I guess there are two of us.'"
Lambert recalled many of the same details Saturday at a dedication of the chapel to mark the 150th anniversary of its construction in 1864 and opening in 1865. After Lambert's remarks, Baker President Lynne Murray noted his list of those who helped with the project omitted one key participant: himself. She then surprised him with the naming of the chapel's sanctuary as the Daniel M. Lambert Sanctuary.
A humbled Lambert said after the ceremony he was honored that his name was now associated with the Osbornes' at the chapel. He was involved with many projects during his career, but had a greater emotional attachment to the Osborne Chapel move, he noted.
In his Thursday recounting of the project, Lambert said his decision to find an old English church to bring to Baker was born partly out of necessity. When he arrived at Baker in 1987 for what would be a 19-year tenure as the school's president, the university was without a chapel and used a performance hall in its musical arts building for worship functions. With the appointment of the school's first university minister in 1989, there was agreement it was time to address that absence at a school associated with the United Methodist Church. But rather than build a new chapel, Lambert's idea was to buy and relocate to Baldwin City one of the "redundant" Methodist country churches in England, which were no longer used but cost the church to maintain.
His first step in that effort was to ask Dean Bevan to scout potential chapels when he was selected as Baker's first faculty representative to Harlaxton College, the British campus of the University of Evansville, with which Baker has had an affiliation since 1989.
"Dean was very conscientious about that and sent me photographs of several Methodist churches," Lambert said. "Some time about a year later, I was visiting the Harlaxton program and looked at several of the churches Dean had found, confirming his judgment the Sproxton church was the nicest of the lot."
A local boy made good provided the money in 1864 to build the church for the Sproxton Methodist congregation, who had been meeting in the homes of members since it was founded in 1803, Lambert said. The church was constructed from locally quarried ironstone, a sedimentary rock with a red tint from its high iron content, fancier than most of the barebones country churches English Methodist built, Lambert said.
As in the United States, times changed in post-war England to the detriment of rural communities. The Sproxton Methodist congregation had its last service in church in 1988.
"It had been closed for several years when it came to our attention," Lambert said. "I was surprised how quickly it had deteriorated."
Osborne, known for his many charitable donations in his hometown of Olathe, including the grounds for MidAmerican Nazarene University, never forgot about the project he first thought impractical.
When Lambert met with him after his initial proposal, Osborne would often ask how the project was progressing, while adding he couldn't contribute at that time. Then, in early 1995, Osborne said he would donation half of the $1 million needed.
"The following Christmas he called and said, 'I've been thinking about this. I'll do the whole thing,'" Lambert said. "Needless to say, that was a very merry Christmas."
Negotiations to buy the church were complicated by objections of preservationists still upset with the relocation of London Bridge to Arizona, Lambert said. The proposal did have the enthusiastic support of British Methodists excited about the prospect of a second life at an American Methodist university.
"The preservationists never approved the move, but we did manage to get the approval of other politicians," Lambert said.
Next came the complicated process of dismantling the church in Sproxton, shipping the stones, roof tiles and miscellaneous parts about 5,000 miles to Baldwin City by ship and truck, and reassembling it.
"There were all these pallets of stone, all numbered so they could be placed," Lambert said. "I always worried they'd get it right. We are indebted to some talented artists on this side of the ocean who knew how to put it together."
Among those attending the 1996 dedication was former British Prime Minister Margaret Thatcher, whose father Alf Roberts sometimes preached at the Sproxton church as a lay minister. Church archives, which came with the purchase of the church, listed when he preached, how many were in attendance and how much money was collected during those Sundays.
"So much related to the chapel focuses around Lady Thatcher's involvement," Lambert said. "It's wonderful, but we had no idea when we were negotiating that it had such close ties to her and her family.
"Some of the villagers remember her and her father coming from Nottingham to preach. To them, she was not Prime Minister Margaret Thatcher or Lady Margaret, but Maggie."
About 20 residents of Sproxton or those with ties to the village joined Thatcher at the dedication, including a few surviving members of the congregation, Lambert said.
"We hosted a breakfast for those folks the morning of the dedication before we went over to the chapel," he said. "I walked over with Annie Potts, one of the surviving members of the congregation. The campus wasn't nearly as attractive as it is now, but Annie stopped and looked at the chapel. She said, 'Oh my, it's so much more beautiful than at home.' That was absolutely true."
The chapel continued to have a special hold on the benefactor who made it possible. Osborne, who died at the age of 97 in 2001, frequently made unannounced visits to the chapel.
"I think, honestly, it was a very special project for him, not only because his wife's name is on it, but also because he was a very spiritual person," Lambert said. "Not too long after the facility was finished, we were sitting two or three rows back during a service. He turned around to look at the place over his shoulder and said, 'You know, Dan. Money doesn't mean anything, but just look at this.' That was a moment to remember."
He had a right to be proud, Lambert said. The chapel is home to Baker's Thursday morning interdenominational services, concerts, special events, a popular wedding venue for Baker graduates and a tourist attraction.
"I will say the impact that chapel had was immediate and clearly lasting," Lambert said. "It's an ongoing symbol of one of the important values of this institution, that is the life of the spirit and the history and tradition of the faith."