Baldwin High School Class of 2015 members told they were 'strongest' class ever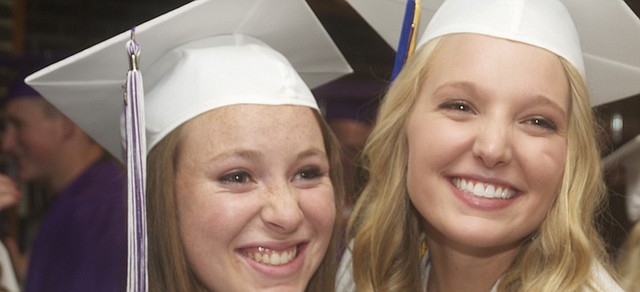 In her commencement address, Corey Valentine said she could make the customary argument that the Baldwin High School Class of 2015 was the best ever at the school, but opted instead for a different distinction.
"One thing I will argue is the Baldwin High School Class of 2015 is the strongest class to pass through these halls," the 2014-2015 BHS student body president said. "Our class has been faced with countless hardships. Things nobody should have to go through. Things we never thought we would survive."
Valentine went on to cite the physical strength of the class' state champion track and field throwers, its state champion wrestlers and future college football players, but said more important was the inner strength the class members showed in dealing with family issues and the deaths of those close to them. That strength was personified in classmate Molly Ogden, who graduated with her class 30 months after a massive stroke robbed her of much of her sophomore year.
"That beautiful girl down there taught us all what it is like to have strength," Valentine said. "Molly is likely the strongest person any of us will ever meet."
Those who packed the Baldwin Junior High School gymnasium for the commencement shared their classmate's admiration, giving Ogden a standing ovation after she received her diploma, wearing a gold cord given to the top academic graduates.
George McCrary, a 1984 BHS graduate selected by the class to make the commencement address, told the class members that if they didn't like the labels pinned on them the past 12 years, their graduation was a time to start again with a "clean slate."
"Let go of the old habits. Let go of the old labels," he said.
That is what he did with the help of such teachers and coaches as Mary Jane Chubb, Merle Venable and Ted Zuzzio, McCrary said. He overcame an early condition that put him in braces to become an athlete at the school and now the owner of the Baldwin Athletic Club.
"I've watched you grow up," he said. "You will be fine, but you must have a never-give-up attitude. "
The graduates' character would grow as they faced challenges, but they should remember they have the support of friends in the class and family members watching the ceremony, McCrary said. He asked that they share their strength similarly.
"Return the favor," he said. "Don't just take, but give when given the opportunity."
In a BJHS hallway after the ceremony, 2015 class member Emma Grossner said it was an emotional day as she said goodbye to so many friends.
"I feel like we are all one big family," she said. "We all care so much for each other."
Grossner is going to Baker University next year, where her father is the head football coach. She'll run cross country and track.
"A few of my classmates are going there, too," she said. "That makes it nice."
Classmate Noah Pippert said he was ready to move on but had mixed feelings.
"It's sad to leave all your friends," he said. "All my friends and memories — those are my take-away thoughts of high school."
Pippert said he planned to attend Neosho County Community College before finishing his civll engineering degree at Kansas State University.