Master gardeners give downtown Baldwin City park a facelift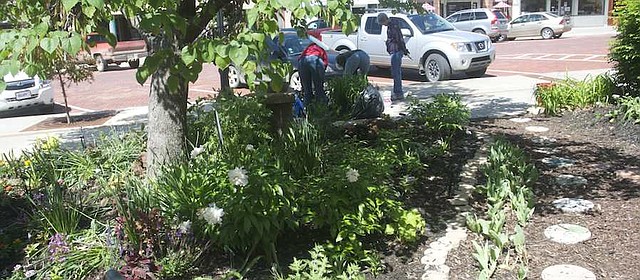 Jane Akob and her fellow local Douglas County Master Gardeners mobilized Monday morning in Swan Park to give the downtown green space its spring makeover.
The master gardeners, Akob, Sheryl Beier, Mica Willis, Carol Anderson and Pat Debold, were adding color to the few plants in the pocket park producing blooms in early May. Together they planted 20 flats of geraniums, zinnias, salvia, yellow butterfly bush and other flowers.
"A whole lot of stuff," Willis said. "A lot of milkweed and purple poppy mallow."
A bumper sticker on one of the master gardener's vehicles promoted the value of milkweed in nourishing monarch butterflies. Akob said it was hoped the yellow butterfly bush lived up to its name and attracted those fluttering insects to the park in the months ahead.
Even with the addition of the many flowers, the workday wasn't so much a makeover of Swan Park as another step in its continued evolution into a community treasure, which started when Akob began giving it the attention of her green thumb five years ago. It was an effort that has included the steady improvement of the soil from that the master gardeners found at what was once hilltop acreage.
"One of our master gardeners said, 'We've done a lot here with this cruddy soil,'" Akob said. "I told her it wasn't the same soil we found here."
The park is billed as a demonstration garden, and serves as an example of what can be accomplished with some horticultural knowledge, vision and hard work. As such, a visitor will find almost all the plants in the park are identified and, when there, the master gardeners more than willing to talk about the park and all things gardening.
The plan for the season ahead includes a return of the wall of pots that first made an appearance a year ago. Akob said the shelves of potted plants will be installed sometime later this month or in early June. Community members are invited to contribute potted plants to the wall, she said.
New this year will be the cedar arbor Douglas County Master Gardener Les Conder will build to replace the one made of wire fencing now in the park.
"The city is paying for the materials, and Les is building it," Akob said. "I'm thinking about putting a climbing rose on it. It's going to be nice."
Those interested in becoming a Douglas County Master Gardner can visit with her Tuesday mornings at the Baldwin City Public Library or call Douglas County Extension at 785-843-7058.