Baldwin High track teams shine at Wellsville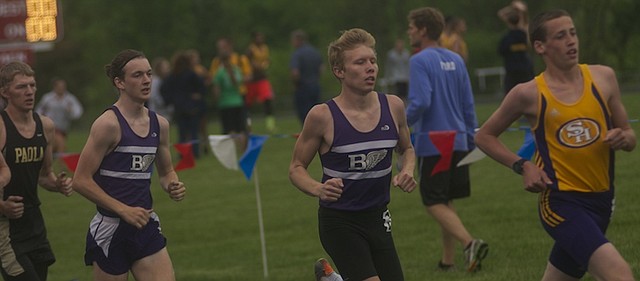 Before Friday's Red Bud Classic in Wellsville, Baldwin High School girls track coach Ted Zuzzio foresaw good things for his team if weather cooperated.
He wasn't disappointed. Although sloppy conditions may have hampered girls in the javelin throw at a venue Kelsey Kehll and Kylee Bremer both topped what was then the school record a year ago, the team turned in a number of suburb performances.
Even though the girls finished second at the meet to Paola for a familiar reason, the Bulldogs shined at the meet, claiming gold in half the 16 events. Paola finished first with 162 points, and Baldwin was second with 148. The two teams dominated the competition as Spring Hill finished third with only 39 points.
"We did great," Zuzzio said. "We had 18 seasons best marks by various girls and brought home 24 medals, of which eight were gold. We came in second mainly because of our lack of depth, but I will take our the quality that we presently have anywhere, anytime. We had a number of state medal platform-like performances."
The Baldwin boys tuned up for today's Frontier League Meet by running away for a 14-team field that included three league teams. The boys finished first at Wellsville with 101 points, while Osawatomie was a distinct second with 69 points.
"I was very happy with our performance on Friday," BHS boys coach Mike Spielman said. "George Letner won three medals, and  Dakota Helm ran a fast 800 time. Noah Watson placed in the 100 and 200 meters, and ran a personal best split on the 4x400 meter relay."
Letner was first in the 1,600 meters, second in the 3,200 meters and on the winning 4x800 meter relay team.
Among the girls with standout performances was junior Sydney Bergan, who set a new school record in the pole vault with a 10-foot effort. She finished second because of one more missed jump than the gold-medal winner. Helm won the 800 meters and ran a leg of the winning 4x800 meter relay team with senior Joe Pierce, Letner and junior Nevin Dunn.
Senior Christian Gaylord again went over 50 feet in winning the shot put (51-10), but finished second in the discus to the state's No. 1 ranked thrower.
Senior Alexia Stein added two more gold medals to those she's collected in her stellar senior year. She won the shot put with a toss of 43-04.5 and the discus with a throw of 146 feet. Junior Kylee Bremer leaped into the season-long rivalry between junior Kelsey Kehl and senior Jordan Hoffman in the javelin, finishing second to Kehl, whose winning effort of 124-04 was well off the school record she established at the Red Bud Classic a year ago. Hoffman finished third as the Bulldogs got top-three sweep in the event.
Junior Addie Dick raced to 1,600-meter gold with a time of 5:28.63, and freshman Abby Ogle edged junior teammate Kyna Smith to win the 400 meters. The two helped the Bulldog 4x400 meter relay team to a first-place finish. The 4x100 meter and 4x800 meter teams also claimed gold.
The Baldwin girls have been in the same position with Paola in recent years, in which the Panthers claim titles in smaller meets, including the Frontier League meet, because of depth, but the Bulldogs quality carries them to the state title.
The two rivals will square off at today at the Frontier League meet in Spring Hill. The boys team will be looking to win its fifth-straight league title.
BHS Wellsville results
(Top-5 finishers)
Girls
Shot put, Alexia Stein, first,43-04.5; Jordan Hoffman, fourth, 37
Javelin, Kelsey Kehl, first, 124-04; Kylee Bremer, second, 119-04, J. Hoffman, third, 117-05
Discus, A. Stein, first, 146; J. Hoffman, third, 124-01. K. Kehl, fourth, 111-03.
Triple jump, Hollie Hutton, fifth 31-04
400 meters, Abby Ogle, first, 1:01.98; Kyna Smith, second, 1:02.61; Sydney Bergan, fifth, 1:04.87
4x800 meters, Baldwin, first, 9:50.47
100 meters, Carlyn Cole, third, 13.56
1,600 meters, Addie Dick, first, 5:28.63
200 meters, Kylee Bremer, fifth, 27.96
3,200 meters, Emma Grossner, third, 12:26.98, Daelynn Anderson, fourth, 12:32.74
4x400 meters, Baldwin, first 4:04.95
Pole vault, Sydney Bergan, second, 10-0
Boys
Shot put, Christian Gaylord, first, 51-10
Pole vault, Joel Katzer, second, 12-0
Discus, C. Gaylord, second, 167-10
800 meters, Dakota Helm, first, 1:58.57
4x800 meters, Baldwin, first, 8:32.95
110 meter hurdles, Jake Katzer, fifth. 17.76
1,600 meters, George Letner, first, 4:43.35
200 meters, Noah Watson, fifth, 23.88
3,200 meters, Letner, second, 10:25.29; Nevin Dunn, third, 10:47.58
4x400 meters, second, 3:31.97