Baker University's first Kauffman Scholar looking to give back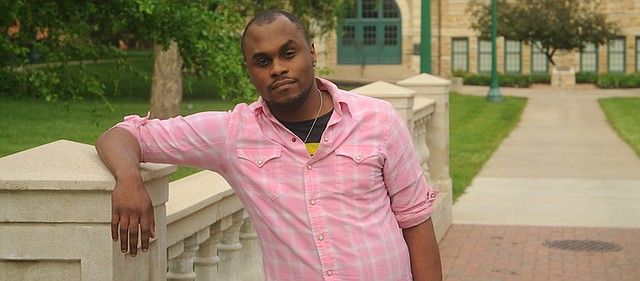 His dream job, says Baker University Class of 2015 member Kaleb Berry, is to design computer games, those of the role-playing kind that tell a story.
Baker University graduation
Baker University will honor more than 300 undergraduates Sunday at the Collins Center on the Baldwin City campus.
At 1 p.m. Sunday, Baker will confer degrees to undergraduates in the College of Arts and Sciences, School of Education and School of Nursing.
Aaron North, the vice president of education at the Ewing Marion Kauffman Foundation, will speak at the ceremony.
All who are celebrating Commencement Day are invited to attend brunch at the Long Student Center dining hall, at the corner of Sixth and Dearborn streets from 10:30 a.m. to 12:45 p.m. Graduates will be honored guests of the university and will receive a complimentary ticket. Friends and family are welcome to attend for a fee of $8, which will be paid at the door. No reservations are necessary.
Immediately after the commencement ceremony, receptions will be held to honor graduates and their families and friends on the lawn north of the Collins Center. The rain location is the Long Student Center lobby.
If he's looking for a compelling story, Berry need look no further than his own. He will graduate Sunday from Baker, grateful and determined to return his good fortune.
"I wouldn't be here without the Kauffman Foundation," he said. "They paid for my tuition, board and books. I will graduate debt free."
He's not the first college graduate in his family, Berry said. His mother is a nurse, but doesn't make enough at her job at an early childhood education center to afford to send him to college.
Berry, who will receive a degree in computer science, entered Baker four years ago as part of the Kauffman Foundation Scholarship program, an eight-year $140 million initiative that provided higher education opportunities to low-income students in Kansas City, Kan., and Kansas City, Mo., public or charter schools.
Like other Kauffman Foundation Scholars, Berry was first identified as a middle school student, coached and then mentored through high school to help prepare him for his college years. He differed from his peers in his choice of college.
"I was the first Kauffman Scholar at Baker," he said. "This year, there are 10 freshmen."
Berry chose Baker because of the Princeton Review's high rating for the school's computer science department and his desire to attend a smaller school.
"I liked the small environment," he said. "I liked the smaller classes and that the community and the teachers get to know you."
Kevin Kropf, Baker senior director of admissions, said, counting the pioneer Berry, there are now 17 Kauffman Scholars at Baker.
"We have built a good relationship with the Kauffman Foundation over time," he said. "We've had some transfer in and now have students in the nursing program in Topeka."
One appeal is the Bridge program, a five-week summer college preparation program, which allows incoming freshmen to take six credit hours. The Kauffman Foundations helps sponsor, Kropf said.
His Baker experience began with the Bridge program the summer before he started his freshman year, Berry said.
"The level of education at Schlagle didn't have the rigor expected at college," he said. "With the Bridge program, I was in the classroom four hours a day learning what I needed to do. It got rid of all the shock. Without the Bridge program, I would not have been ready."
That program aided with his transition to Baker's academic life. His pledging to Baker's Zeta Chi fraternity helped him adjust socially to a campus that had a much different demographic than his hometown.
The Kauffman Foundation doesn't normally pay for its scholars to live in fraternities, but agreed Berry could pledge and reside at Baker's Zeta Chi thanks to the intercession of former Baker President Pat Long, who retired last year.
"Dr. Long wrote a two-page letter explaining all the advantages of my being in Zeta Chi," he said. "It's the oldest independent fraternity west of the Mississippi and pretty much focused on members realizing their scholastic potential.
"When I came to Baker, I didn't know anyone in the community. They were very supportive and were always there for me from the first day. They are my brothers. Zeta Chi taught me to be a man."
With that solid academic and social footing, Berry will earn his degree in four years and collect a $3,000 bonus on graduation for saving the Kauffman Foundation the expense of another semester.
Armed with internships with Blue Cross Blue Shield and Cerner Corporation, Berry is shopping for a job in web development, software development, game development or "anything development, really."
He wants to stay in the area and give back to his old community where Berry has witnessed old classmates make bad decisions because of a perceived lack of options. His intention to is to work with the Kauffman Foundation and his old high school by serving as a mentor or coach with the foundation at Schlagle.
Berry also wants to work with the high school's students in robotics competitions, help make up for the school's lack of technology by sharing his computer knowledge and in general be a positive role model.
"There are opportunities, but not many people take them," he said. "You have to think rationally. You have to know what you can change and what you can't."