Baldwin High School senior to graduate 2 1/2 years after massive stoke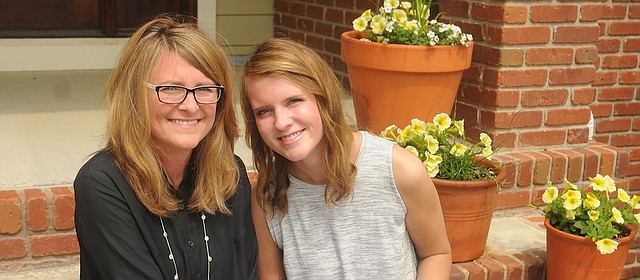 At a table Saturday in the family's rural Baldwin City home, Allison Ogden spoke of the attitude that allowed her daughter Molly to recover from the devastating stroke she suffered on Nov. 5, 2012.
Baldwin High School graduation
When: 10 a.m. Saturday
Where: Baldwin Junior High School Gymnasium
Guest speaker: George McCrary
"She's always been positive," she said. "She has always had a kindhearted, positive nature. She's certainly had a positive attitude to keep moving ahead and not feeling sorry for herself."
Sitting in an adjacent chair, Molly reached out to touch her mother's shoulder, tears glistening in her eyes.
"Thank you, mom," she said.
There was no mistaking the heartfelt affection Molly communicated in that moment, but two and a half years after her stroke, words and communication don't come easy to Molly. Mother and daughter were "in tune," Allison said, which often allows her to glean what her daughter means when she makes such language errors as using the opposite word of the one she wants.
The name for Molly's condition is aphasia, which Allison said was often misunderstood.
"It doesn't affect her cognitively; she has trouble getting words out," she said. "I had a person once ask why we didn't give her a dry erase board. It's not laryngitis."
Allison explained Molly's continued battle to overcome aphasia in the words of Jill Bolte Taylor, a Harvard University trained neurobiologists who had a massive stoke at the age of 37 and nine years later wrote the bestseller "My Stroke of Insight." Bolte Taylor described her post-stroke language challenge as searching for the right word in a pile of files dumped on the floor from the file cabinets of her mind.
"That's how hard it was for her to find words," Allison said. "She said it took her nine years to get back where she was."
While Molly is still traveling that road, she will celebrate a remarkable two and a half years of progress when she walks across the stage to accept her diploma Saturday with her classmates of the Baldwin High School Class of 2015.
Dark days
Brad and Allison Ogden can be excused for watching their daughter's commencement with more than the normal amount of parental tears and pride as they reflect on the moment and the dark day 30 months earlier when Molly was taken first to Lawrence Memorial Hospital and then to Kansas University Hospital after she collapsed in a bathroom at home. Molly, who had just completed a season with the BHS cross country team, survived because of her overall excellent physical condition, Allison said. But the days following the stroke were filled with horrors as Molly was placed in a six-day medical induced coma and part of her skull removed to relieve swelling.
"It seemed like every other day there was something new," Allison said. "It was a perfect storm of complications. Molly had a blood clotting disorder we were unaware of."
Even as Molly came out of the coma, the diagnosis remained bleak. A doctor predicted it would be a year before Molly could speak and five years before she walked.
She proved the doctor wrong by embracing a regime of intense physical, occupational and speech therapy, which continues today.
Three months after her stroke and a two-month stay at Madonna Rehabilitation Hospital in Lincoln, Neb., Molly returned home. It would be another two months before she returned to school in April 2013, where she picked up her studies.
"They learned along with us," Allison said of school staff unused to working with students recovering from strokes. The school put together an individual education plan tailored for Molly, which included such things as allowing her to take exams orally.
Molly attended summer school in 2013 and 2014 to make up for time lost her sophomore year. This year, she was fall sports homecoming queen and earned a 4.0 grade-point average for the fall semester, but Molly said the best thing about the year was just being there and being a part of the year with her classmates.
Molly still goes to therapy every Friday at a rehabilitation facility the family chose because of its academic component. She's met three other teenage girls through therapy who are high school seniors this year. They were selected as the American Heart/Stroke Association's Heroes of the Month for May, which is also National Stroke Awareness Month.
"They had their picture taken together," Allison said. "They are pitching it to the national media as part of Stroke Awareness Month, so you might see more of them."
Molly and Allison have done worked on their own to increase stroke awareness.
"We've had several speaking engagements," Allison said. "We try to get the word out about the signs of stroke because time is of the essence when dealing with a stroke."
On to Baker
"Oh yes," Molly exclaimed when asked if she was ready to graduate high school.
She plans to enroll this fall in a limited number of classes at Baker University as she begins working on a degree in early childhood education, while working for a part-time job in the field, Molly said.
Her college study will build on her school and church experiences. This year, Molly was an aide at the 4-year-old program at Baldwin Elementary School Primary Center and elementary youth leader at the Wednesday afternoon after-school program at Worden United Methodist Church.
She likes the ease with which the young children communicate with her, Molly said.
She has a busy summer ahead before starting college. She will be working with the Baldwin school district's summer school program and take a mission trip to Eureka Springs, Ark., with the Worden UMC youth group. She also will attend a weeklong camp in July at Washburn University of the Kansas Youth Leadership Forum for students with disabilities.
Molly's hard work in therapy and school put her in the position to graduate, but her mother said she and the family benefitted from an excellent medical care team and the support of their church and the community.
The experience has given the family the perspective to embrace every sunrise.
"You hear people say, 'never take anything for granted,'" Allison said. "Once you experience something like this, you learn to be thankful for every day."