Baldwin High School girls soccer wins twice in past week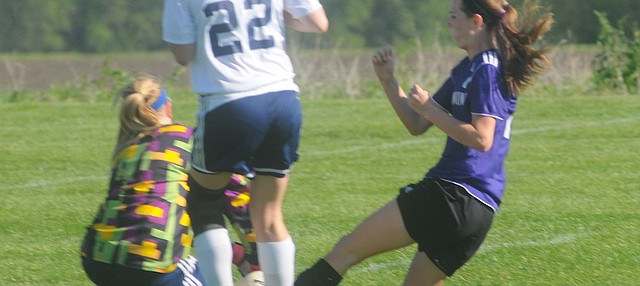 The Baldwin High School soccer team turned in two impressive second-half performances in claiming a couple of victories in the last week.
The two wins, a 3-0 victory last Thursday at Bishop Seabury in Lawrence and a 4-1 win at home Tuesday against Maranatha, were sandwiched around a 1-0 loss at home to Tonganoxie.
The Bulldogs dominated the second half in both wins, scoring three goals after the matches had been tied at halftime.
"They are a good team," Baldwin coach Erryn Kindle said of Maranatha. "They had fast players and good technique players, but we were able to adjust. We started man-marking some of their players and took them out of the game. That kind of opened up the game for us."
Baldwin had its chances against Bishop Seabury in the first half, but rushed shots because of excitement in front of the goal, Kindle said. That changed early in the second half when senior Sierra McKinney scored on a charge on goal on a pass from junior Erica Petry. McKinney would return the favor about 4 minutes later with a picture-perfect pass from the right of box, which Petry headed in for a score. Petry would score the match's final goal with another pass from McKinney
"We passed well, even in the first half," Kindle said. "We just didn't finish shots. Our defense played well. I think our goalie touched it three times in the first half."
The loss to Tonganoxie was the only blemish on the week and disappointing because the Bulldogs had won at Tonganoxie, 5-0, two weeks earlier. Kindle had warned before the game that score was not a guarantee of victory. The Bulldogs were tried, having played the Bishop Seabury game on a hot afternoon the day before, he said.
Up next for Baldwin is a Monday match at Ottawa. It is the last match before post-season play and important for seeding, Kindle said.
"It seems like every year one win can make a difference of two or three places in seeding, so it's a big game," he said.