RG

Fiber on a roll, expects to have gigabit service in Baldwin City in August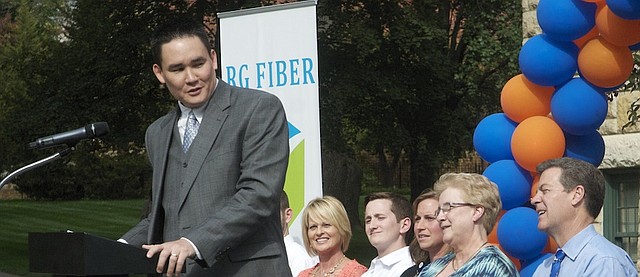 Although RG Fiber didn't extend gigabit Internet service to the community in the early spring as hoped, there has been a good deal of positive news for the Baldwin City-based company in recent weeks.
Problems with vendors prevented the company from installing fiber optic cable to Baldwin City by the early spring target that RG Fiber CEO Bosch set in October when he announced the launch of the service at an event on the Baker University campus.
"We had vendor problems," Bosch said. "We've worked through them. We will be starting up construction very soon. We should light up service here in the community in August. A little bit before Baker starts (its fall semester)."
Other than the vendor problem, things have been going well for RG Fiber and its sister company, Reflective Group. Last month, the city of Eudora approved an agreement much like the one the company has with Baldwin City, which will allow the company to offer gigabit service in that community.
Perhaps of more significance was the Lawrence City Commission putting an end to a long debate on its gigabit future by adopting a policy last week, which will allow RG Fiber to offer service in that community.
"It's very much like our agreement with Baldwin City," Bosch said. "We'll have access to right of way and utility easements."
The Lawrence City Commission also agreed not to require companies installing fiber optic cable to be "common carriers," meaning RG Fiber would own and have exclusive rights to any gigabit capacity cable it installs.
Other communities have been taking notice of RG Fiber's progress. Bosch said he and his partners are in discussion with other municipalities impressed with RG Fiber's business and technical models.
Meanwhile, the online enrollment software Reflective Group developed in cooperation with the Baldwin school district is also finding new customers. The enrollment software package is unique in allowing parents or guardians to pay fees for students on full-priced or free or reduced lunches.
Bosch said the Eudora, Santa Fe Trail and Rock Creek school districts have contracted for the enrollment package.
"That's pretty exciting, because that's something that started right here in Baldwin," he said.