State champion Bulldogs have three wrestlers named to
LJW

team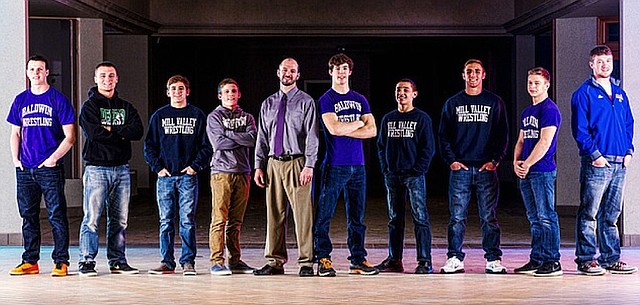 On the day the Baldwin High School wrestling team celebrated its state championship season with its annual banquet, three Bulldog wrestlers and their coach were selected to the Lawrence journal-World All-Area Wrestling Team.
On Tuesday, the LJW designated senior Jon Pratt as its All-Area Wrester of the Year, noting the "senior 152-pounder set a school single-season record with 48 wins, and he finished his career with Frontier League, regional and state championships. Pratt won five tournament championships throughout the season and led the Bulldogs with 70 takedowns."
Joining him on the team was fellow senior Joel Halford, who the LJW noted came back from an injury that forced "Halford to default to fourth place in the Frontier League. He finished the year on a strong note by getting second place at regionals and third at the Class 4A state tournament. The senior 182-pounder finished with a 28-10 record."
The third Bulldog honored was sophomore Thomas Lisher, who the newspaper said was "a nightmare for opponents all season at 138 pounds, and he became the Bulldogs' first sophomore state champion. He finished with a 43-4 record, won six tournament championships including the Frontier League and regionals and led his team with 27 falls."
Baldwin coach Kit Harris earned the LJW's Coach of the Year honor with what the paper noted was a record year.
"The Bulldogs won their first Class 4A state championship after sending a school-record 10 wrestlers to the state tournament, and seven of them finished in the top six of their respective weight classes. State medalists Levi Green, Joel Halford, Jake Katzer, Joel Katzer Thomas Lisher, Jon Pratt and Owen Tuckfield highlighted the year in which BHS won its fourth straight Frontier League title."
Also named to the first team, were Mill Valley senior Bryan Burnett, Lawrence junior Alan Clothier, Santa Fe Trail junior Ethan Dean, Mill Valley sophomore Dylan Gowin, De Soto Wildcat Josh Miller, Free State freshman Tate Steele, and Mill Valley freshman Conner Ward.
Bulldogs Levi Green, Jake Katzer, Joel Katzer, Ben Morgenstern and Owen Tuckfield were among those named to honorable mention.