Baldwin coach, top scorer named to
LJW

Girls Basketball All-Area Team
After a magical 21-4 season that included a trip to the 4A Division II state title game, Baldwin High School's girls coach and top-scorer were named to the Lawrence Journal-World All-Area Team.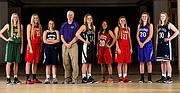 Bulldog senior forward Maddie Ogle was named to the team while coach Bob Martin was named coach of the year.
In honoring Martin, the LJW noted:
With a balanced lineup of strong players, Martin led the Bulldogs to a 21-4 record and second place at the Class 4A-II state tournament. It was their first state tournament appearance since 1997. BHS was led by Taylor Cawley, Madeline Neufeld, Abby Ogle, Maddie Ogle, Kyna Smith, Alexia Stein and Corey Valentine.
The LJW cited Ogle's versatile game in naming her to the first team:
Ogle led the Bulldogs in their full-court defense and fast-break offense, posting a team-best 13.4 points and 7.6 rebounds per game. The 6-foot senior was a first-team All-Frontier League and all-state selection, and she dominated in the state tournament, scoring 20.7 points per game.
The LJW Player of the Year was Madison Piper of Free State. Other first team members were senior Megan Bonar, De Soto, Sarah Coversup, Free State, Corie Fischer, Ottawa, Tori Huslig, Veritas, Caitie Kafies, Mill Valley, Madison Piper, Free State and Marissa Pope, Lawrence.
Named to the honorable mention team were Bulldogs Madeline Neufeld, junior,Abby Ogle, freshman, Kyna Smith, junior, and Alexia Stein, senior.