Baldwin City to pick 3 council members, 4 board members in Tuesday's election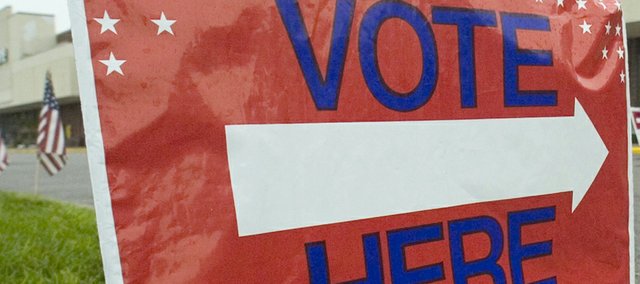 Baldwin City voters will go to the polls Tuesday to elect three City Council members and four school board members, although there will be only two contests on the local ballot.
Three school board candidates, incumbents Sandy Chapman and Nick Harris and political newcomer Kelly Bethell-Smith are running unopposed. The only contested race is that in the Baldwin USD 348's District 3, Position 3 contest between incumbent Chad Christie, who is seeking his second term on the board, and Jay Hundley.
The interest this spring was with the Baldwin City Council where Steve Bauer, Tony Brown, April Coburn, Bonnie Plumberg, David Simmons, Casey Simoneau and incumbent Shane Starkey filed. That won't lengthen the ballot significantly, however, because all seven candidates are vying for the same three open seats. City voters can vote for as many as three candidates, and the three with the most votes will be elected to a four-year term.
The polls will be open from 7 a.m. to 7 p.m. with those living in Precincts 60 and 62 voting at the Lumberyard Arts Center, 718 High St., and those residing in Precinct 61 voting at Baldwin Junior High School, 400 Eisenhower Road. Vinland area residents of Precinct 63 will vote at the Vinland United Methodist Church, 1724 N. 692 Road, and residents of Precinct 67 of Willow Springs Township will vote at the Willow Springs Township Hall, 303 E 1100 Road.
The Douglas County Clerk's office also will make available an advance-voting site for all area residents from 9 a.m. to 1 p.m. Saturday at the Baldwin City Fire Department, 610 High St., where voters can fill out advance ballots or turn in those already marked.
Douglas County Clerk Jamie Shew reminded voters that advance ballots must be returned before 7 p.m. Tuesday to be counted. With that in mind, he said those not mailed before Friday should be delivered to the clerk's office in the Douglas County Courthouse, 1100 Massachusetts St.