Baldiwn City church makes free meal, fellowshp a monthly mission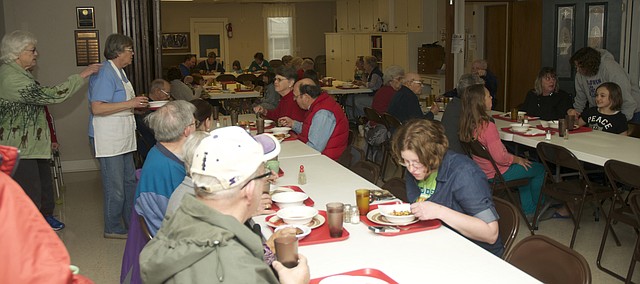 Archie Carlson enjoyed two things Thursday evening at Ives Chapel United Methodist Church outside of his normal nightly routine.
"This is very good," he said as he finished the free dinner the Ives Chapel congregation made available to the community. "Everything is wonderful and how it's supposed to be."
Ives Chapel UMC Feed the Children
Ives Chapel United Methodist Church is current seeking donations for its summer Feed the Children program. The church is looking for $5,000 in donations so that it can provide those families with children who patronize the Baldwin Community Food Pantry with a weekly bag of groceries and half gallon of milk.
Donations may be sent to:
Ives Chapel United Methodist Church, attention Summer Food Program
1018 Miami St.
Baldwin City, KS, 66006
A widower, Carlson had bought chicken thighs for his evening meals before learning of the Ives Chapel dinner, where vegetable soup, bread, jello, cake and cookies were available to all. He enjoyed his meal at a table with about 15 other diners rather than eating alone at his home.
"Good conversation makes everything better," Carlson said.
He was among a roomful of diners taking advantage Thursday evening of the community meal the Ives Chapel United Methodist Church provided. It was the church's third such meal since January and they will continue offering the meal the last Thursday of each month.
Shortly after the volunteer kitchen staff started serving the meal at 6 p.m. Thursday, two rows of long tables in the Ives Chapel Fellowship Hall's front room were more than half full and four more in the rear section were filling as a steady stream of diners kept Cheri Armbrister busy ladling stew into the bowls Gail Guenther supplied her.
"We've served more than 30," Armbrister said. "I'm on my second stack of bowls."
May Gorton, a member of the church's outreach committee, explained the community meal stemmed from a church leadership team attending a conference a year ago in Lawrence.
"This is one of the ideas thrown out," she said. "We thought it was a good idea. Everybody likes a day off from cooking and good company. It's nice to see whole families come in."
The idea of sharing a meal and fellowship has caught on both in the community and the congregation.
"It's grown every month," said Gretchen Brumm, who was in charge of planning the March meal with her husband, C.B. Brumm.
The response has been positive within the congregation, too. C.B. Brumm said the congregation's embrace of the dinner erased some early fears that there wouldn't be enough volunteers to pull off a monthly dinner.
"So far, finding people hasn't been a problem, in fact it's been just the opposite," he said. "lt's not one family or group cooking and doing everything every month. It's been a real group effort."
That might be because the dinner fits nicely with the church's Feed the Children program. That effort provides those families with children patronizing the Baldwin Community Food Pantry with a weekly bag of groceries and half gallon of milk when the children are out of school for the summer.
"People think of that as a problem of larger cities, but there is a need right here in the community," C.B. Brumm said.