Baker gallery to feature campus life captured through
PR

director's lens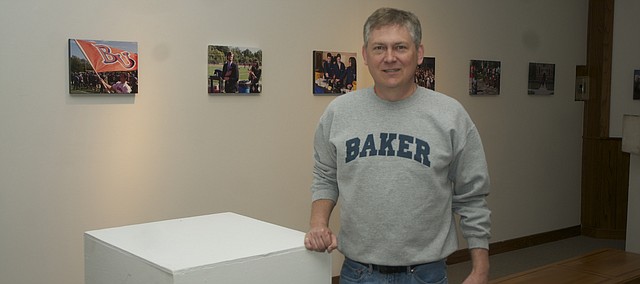 Baker University's public relations director has stepped up to fill a void this spring with a decade of on-the-job images.
The wall space in Parmenter Hall's Holt-Russell Gallery is traditionally reserved late in the spring semester for a show of the work of senior art majors. But this year, there are no graduating art majors.
Filling the walls are photos taken by Baker PR director Steve Rottinghaus in a show called "A Decade Covering the Campus Community,"
"I thought it might be a good time to reflect on my 10 years at Baker," Rottinghaus said. "The thing I've learned is Baker is a campus of continuous motion. There's always something going on."
In his duties as public relations director and editor of Baker's alumni magazine, Rottinghaus is often required to capture moments of that constant motion and has amassed 1,400 photos on the online photo storage site Flickr. The 25 images he chose for the show include photos of Baker athletic contests, important historical events such as the swearing-in last fall of Lynne Murray as the university's 29th president and quiet moments of daily university life. Despite the range of subject matter, Rottinghaus has no difficulty identifying his favorite campus photographs.
"My favorite photos have to be those of commencement day," he said. "Nine of the 25 photos are graduation photos. I don't think you can top the excitement or sense of satisfaction of the graduates and their families."
It's a day he experienced first hand when in May 2014 he received his master's degree in management from Baker.
Rottinghaus came to Baker with a background in print journalism. After graduating from Kansas University, he worked for the Topeka Capital-Journal, Dallas Times Herald, Manhattan Mercury and Lawrence Journal-World. Like many reporters, he learned to use a camera out of necessity.
""My background was a sportswriter, copy editing and page designer," he said. "When I take a photo, I take what I thinks works best with telling a story. I'm not the best technical photographer. I borrowed ideas from a lot of photographers I've worked with. They gave their approval."
He searched out further expertise in hanging the show, Rottinghaus said. Baker graduate Alyssa Petrik helped him hang the photos in his show. She now owns her own photographic studio and has experience mounting shows as the director of the now-closed student-run Art Affair Gallery in downtown Baldwin City.
The show opens Wednesday and will run through May 17. The Holt-Russell Gallery is open from 8 a.m. to 4:30 p.m. Monday through Friday.