Six Baldwin HIgh School players named to Frontier League post-season teams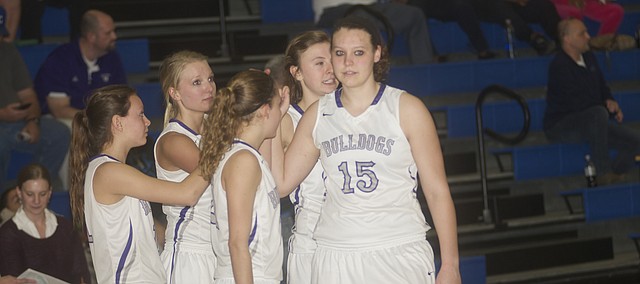 Six Baldwin High School basketball players earned All-Frontier League post-season recognition in a very competitive year that saw two the league's girls teams earn state title berths in their respective classes and college coaches drooling over one sophomore forward.
Baldwin senior Maddie Ogle was the Bulldogs' lone first-team all-league selection on either the girls or boys teams. If it seems as if the Bulldogs were overlooked, consider Paola, which was undefeated until the Panthers lost in the 4A Division I championship game to Bishop Miege, also landed only one player of the first team in junior Morgan Laudan.
Paola did have two players on the second team with seniors Lyndsee Johnson and Tiana Moala. Four Bulldogs were were honorable mention selections. Those honored were juniors Madeline Neufeld and Kyna Smith and seniors Alexia Stein and Corey Valentine.
Senior Christian Gaylord was the only Bulldog to be named to the Frontier League boys team. The Nebraska football recruit was named to the second team.
All-Frontier League teams
Girls
First team: senior Maddie Ogle, Baldwin, senior Megan Bonar, De Soto, senior Natalie Moore, Louisburg, senior Corie Fischer, Ottawa, junior Morgan Laudan, Paola.
Second team: Senior Tori Marshall, De Soto, senior Kirstin Lowry, Louisburg, senior Brette Moore, Ottawa, senior Lyndsee Johnson, Paola, and senior Tiana Moala, Paola.
Honorable mention: junior Madeline Neufeld, Baldwin, senior Corey Valentine, Baldwin, senior Alex Stein, Baldwin, junior Kyna Smith, Baldwin, junior Makaila Garcia, Eudora, and junior Taylor Williams, Paola.
Boys
First team: junior Austin Downing, Eudora, sophomore Isaac McCullough, Ottawa, junior Mason McDown, Paola, sophomore Mitchell Ballack, Eudora, and senior Quentin Blaue, Ottawa.
Second team: senior Christian Gaylord, Baldwin, senior Corbin Wertz, Louisburg, senior Danny Hodge, Spring Hill, junior Ivan Hughes, Spring Hill, and junior Justin Criddle, Paola.
Honorable mention: junior Alex Wilson, Paola, sophomore Grant Harding, Louisburg, senior Jake Matney, Ottawa, junior Jomain Rouser, Eudora, senior Nick Mullen, De Soto, and senior Tyler Smith, Ottawa.