Face to Face: Becki Dick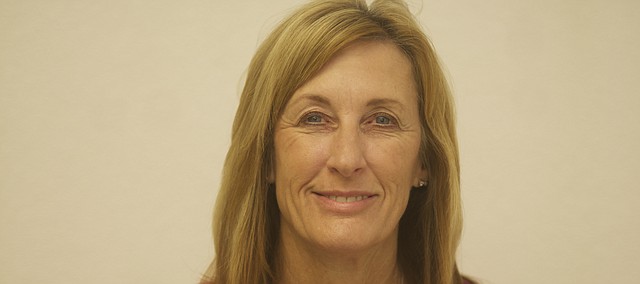 Becki Dick
Born: Dick was born in Norman, Okla., where her father was studying for his doctorate. She grew up in Newton after he took a job at Bethel College.
Family: Husband, Gary; daughter, Jena; and twins, Tessa and Nathan. Tessa and her husband, Ryan, have a 1-year-old son, Emmett.
Education: Dick graduated from Newton High School and has degree in art education from Bethel College.
Hobbies: After playing the sport in high school and college, tennis is her favorite hobby, Dick said. She helped out coaches at BHS for a number of years and has had a two-week tennis camp through the Baldwin City Recreation Commission for 13 years. Other hobbies include dressage and horseback riding, quilting and gardening. She recently started getting back into art by taking a class in collage.
Career: She taught for a few years after graduation, Dick said. She later owned Palace Card and Gift Shop in downtown Lawrence. She currently is active in the community, serving on the Lumberyard Arts Center, Baldwin City Chamber of Commerce, Douglas County United Way and the Lawrence Memorial Hospital endowment boards. Her volunteerism grew from the time she gave to schools when her children were in the Baldwin district, she said.
"Once I became an empty nester, I volunteered in the larger community. It's just giving back. I'm fortunate I can do this."
Digging deeper: Dick said her family moved in 1987 to Baldwin City, where her husband realized his goal of starting his own manufacturing company, the forklift manufacturer Custom Mobile Equipment Inc. "When he started his company, he said we could move anywhere in the country as long as it was on a major highway. We picked Baldwin City because of the schools and what people told us. Everybody liked Baldwin."