Baldwin girls bull way into state title game with 67-42 win against Concordia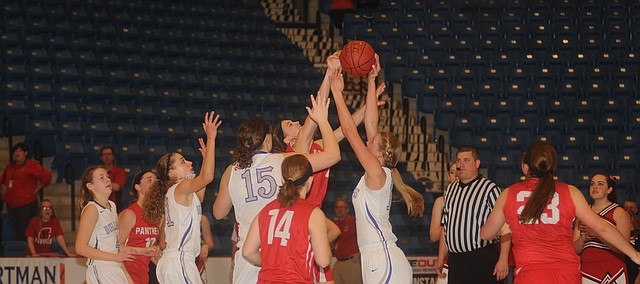 Park City — Baldwin High School senior Maddie Ogle scored 20 points, including seven in the first quarter, as the Bulldogs bulled their way into the 4A Division II state title game with a 67-42 against Concordia.
Ogle, who scored 18 points in Baldwin's first-round 61-44 win against Girard, said she found playing in Park City's Hartman Arena to her liking.
"I think it's the height of the arena," she said. "It's so exciting here."
Baldwin coach Bob Martin summed it up as a star playing her best in the limelight.
"She's playing like an all-stater," he said.
Ogle scored seven of the Bulldogs' first nine points, including a layup off the opening tip after receiving an assist from fellow senior Corey Valentine. Concordia had the answers early, holding the lead for most of the quarter until freshman Abby Ogle connected on a three-pointer late in the period after her older sister went to the bench with two fouls.
Baldwin started taking control of the game in the second quarter despite Maddie Ogle playing sparingly. The referees let the teams play, which played into the hands of the deeper, more aggressive Bulldogs.
Seven Baldwin players scored in the quarter with Abby Ogle leading the way with seven points. After sophomore Taylor Cawley's three-pointer with 5:18 remaining gave Baldwin a 25-16 lead, Concordia would storm back behind senior Tristen Leiszler's six points to close within 29-28. The Bulldogs answered the challenge with a seven-point run of their own to end the half and take a 36-38 lead at the break.
"I really feel like a key was our spurt at the end of the second quarter when the got within one and we were able to push it back to eight," Martin said. "I think they just wore out in the third quarter, and we were able to get it going."
Baldwin's fast-break offensive and pressing defense started paying dividends in the second half, forcing 10 Panther turnovers, as the Bulldogs steadily pulled away. Maddie Ogle scored nine points in the third quarter, twice finishing fast breaks with layups, as Baldwin enjoyed a 52-34 lead after three quarters. A tiring Concordia squad found it increasingly hard to score, totaling only six points in the third quarter and 14 in the last 16 minutes.
Baldwin, now 21-3 on the year, will play a 21-2 Hugoton team for the title a 4 p.m. today. Like the Bulldogs, Hugoton likes to press and run, Martin said.
"They're not that big, but they have a lot of quickness," he said. "It will be an interesting game.
Maddie Ogle said she was ready for the run-and-gun showdown.
"I guess we'll see who does it best," she said. "We like putting on pressure and getting fast-break layups. It gets us excited and gets us going. We're ready for the championship game. It's what we came here to do."
Baldwin 67, Concordia 42
Baldwin 12 24 16 15 - 67
Concordia 12 16 6 8 - 42
Baldwin scoring: Fayth Peterson 4, Emma Stewart 1, Abby Ogle 15, Taylor Cawley 5, Kyna Smith 6, Corey Valentine 4, Alexia Stein 9, Maddie Ogle 20, Madeline Neufeld 1, Lily Fursman 2 (3-point baskets: Cawley 1, Abby Ogle 3)
Concordia: Cydney Bergmann 11, Maggie Lambert 6, Cameron Collins 1, Jordan Eshbaugh 10, Jennnifer Garcia 2, Tristen Leiszler 12 (3-point baskets: Eshbaugh 1, Leiszler 2)