Baldwin High School musicans chill on State Honor Band experience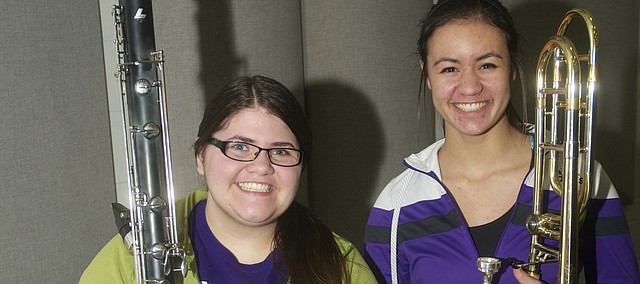 More than a week after playing in the State Honor Band, two Baldwin High School students say the experience still gives them chills.
"I get goosebumps just talking about it," senior Kymbr Simmons said Monday. "It was a week ago and when I think about it, I still get chills.
"You're playing with the best in the state. You're surrounded by very special kids, giving their best."
Junior Megann Lawrenz said the experience was one of the highlights of her high school years.
"It set the bar pretty high," she said. "Just to play in a band like that everyday, I wouldn't have to do anything else."
The two musicians played with the 1A to 4A State Honor Band at its Feb. 28 performance during the annual Kansas Music Educators Association convention in Wichita.
It was a return engagement for both. Simmons was selected for the third-straight year to the band's only contra clarinet seat. Lawrenz went for a second year in a row on trombone.
They agreed that guest conductor, or clinician, Brian Balmages, made the experience special.
"I've been in the band three years, and he was the best we had," Simmons said. "It was the music he had us play, and he gave us a 20-minute speech that could change your life. He could be a motivational speaker."
Among the most memorable music the band performed was a piece Balmages composed and a tribute to John F. Kennedy titled "Elegy to a Young American." That final piece was the chill-inducing highlight of the performance, the students said.
"That was the most gorgeous piece I've ever played," Lawrenz said. "It ended with the most beautiful chord ever. The conductor just stood there for 20 seconds with his hands in the air. His face was red with emotion."
The two musicians worked hard and took risks to earn state band seats, said Baldwin High School band director Will Cooper.
"Both girls are very talented and really enjoy music," he said. 'This was a great experience for both girls to work with this level of students and a worldwide known composer/conductor.
"It is quite a honor for Kymbr to be a three-year participant in this prestigious ensemble."

The two BHS students and the other about 100 fellow musicians started their state honor band experience shortly after arriving in Wichita the Thursday before their Saturday performance. They would start rehearsals that afternoon, continue them "basically all day" Friday and again Saturday morning. When an East Coast blizzard delayed Balmages' arrival, two substitutes would step in to run the rehearsals. One of those subs was Baker University band director Frank Perez.
"He's my private tutor," Lawrenz said. "I saw him every day that week."
The 16 to 20 hours of rehearsals were a demanding but enjoyable part of the experience, the musicians said.
"You're really immersed in music," Lawrenz said. "You feel it. You smell it. It's your life for three or four days."
To be selected to honor band, students first have to audition for district band. Another audition before band directors from other 1A to 4A schools is held to select the state band members. It is a nerve-wracking process, especially for first-timers.
"Last year, I was going to quit before my first district audition," Lawrenz said. "I told Mr. Cooper and he said, 'Nope, you're going to audition.' I didn't want to audition and be turned down."
There's a shared apprehension of the auditions, Simmons said.
"It's tough to see good musicians breaking down crying after messing up during an audition," she said. "But it makes you a better. Performing solos in state competition is nothing after the auditions."
Lawrenz and Simmons remember receiving encouragement from Cassidy Markley, a 2014 BHS graduate who made state honor band as a junior and state orchestra as a senior. They now find themselves encouraging other musicians to audition, she said.
The junior Lawrenz said she was considering a science-related major but music would be part of her college life.
"I haven't decided if I will major in music or something else and minor in music," she said. "I want to be in a marching band and in a band. I want to be in a band whenever I can be."
Simmons will enroll next fall at Emporia State University to study music education with an emphasis on instrumental music. She will play in the school's marching band, concert band and "at least one choir."
"I know after all-state band, I want to keep playing in bands. I want more experiences like that."