Baldwin City moves to Sweet 16 in Kansas showdown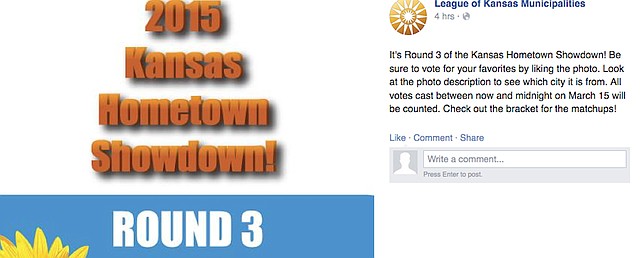 Baldwin City has made it to the sweet 16 in a March madness competition with 63 other Kansas municipalities.
Baldwin City Clerk Anna Keena said the competition involved collecting likes on a Facebook page of the League of Kansas Municipalities. The league drew up brackets for its 2015 Kansas Hometown Showdown with the cities having the most cumulative likes at the end of a defined contest time period moving on to the next round.
People can vote in the contest by visiting the Facebook page of the Kansas League of Municipalities and liking the photo and blurb of the competing cities. Baldwin City's photograph is of the Santa Fe Depot framed by a maple tree in full autumn splendor.
Baldwin City emerged as a first-round winner against Hutchison, a victory Baldwin City Administrator Chris Lowe characterized as a 17-seed beating a 2-seed in the NCAA mens basketball tournament. In the second round concluded Sunday, Baldwin City's 202 likes turned back an upset bid from Inman and its 148 likes.
Details of the contest can be found at the League's Facebook page at facebook.com/LeagueofKansasMunicipalities. Links there will take viewers to the contest and the various pictures.
Baldwin City is vying in the third round until midnight Sunday against Independence, which emerged from its second-round victory against Hiawatha with 265 likes. Keena said. Baldwin City would have to step up its game if it was to win the ultimate prize of a cover photo on the Kansas Government Journal.
"We're going to have to get our partners with the Baldwin City Chamber and Commerce and the Lumberyard involved," she said. "Wellington has 1,300 likes. There's no reason we can't do that."