Baldwin bulldozes Bishop Ward for state berth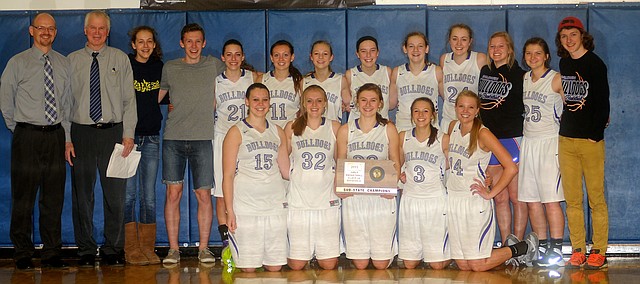 Perry — The Baldwin High School girls overwhelmed Bishop Ward, 83-39, on Saturday to earn a trip to the 4A Division II state tournament.
The game was over early as the Bulldogs led 30-10 after the first quarter and 60-17 at halftime. Baldwin senior Maddie Ogle, who had 12 points in the contest, said Bishop Ward caught a team focused on a goal.
"I think we were really ready to get to state," she said. "I think we were more nervous about this team because we hadn't seen them all year."
The Bulldogs showcased their depth — 12 Baldwin players scored and five got in double figures — a strong inside game, hot outside shooting and a withering pressure full-court defense in the sub-state title tilt. Senior center Alexia Stein scored six inside points in the opening quarter and sophomore reserve guard Taylor Cawley added two three-pointers. Ogle led the Bulldogs' second quarter onslaught with 10 points, while junior guard Kyna Smith added a couple of treys and eight points.
"Was I surprised — no, this was what we were hoping to see," Baldwin coach Bob Martin said. "They really came out and played great. They were really ready for this."
Baldwin, now 19-3 on the year will be the No. 2 seed in the 4A Division II state tournament with Hugoton being the top seed. The two teams traded the top spot in the rankings during the year. The Bulldogs will learn Sunday who they play in Thursday's first round of the state tournament. The games will be played in the Hartman Arena in Park City just north of Wichita.
Baldwin 83, Bishop Ward 39
Baldwin (19-3) 30 30 15 8 - 83
Bishop Ward (6-16) 10 7 9 13 - 39
Baldwin scoring: Emma Stewart 6, Abby Ogle 11, Taylor Cawley 10, Corey Valentine 8, Maddie Ogle 12, Alexia Stein 10, Madeline Neufeld 6, Lily Fursman 2, Douglas 2, Jordan Hoffman 2, Kyna Smith 12, Peterson 2
Bishop Ward: Kayla Forte 2 Mariah Sanchez 5, Sa'Mone Springsteen 10, Breana McMillon 11, Alexis Dominguez 7, Gabby Tinoco 3, Alexandria Lamb 1