Baldwin High School wrestling coach teaches success on mat while building long-lasting bonds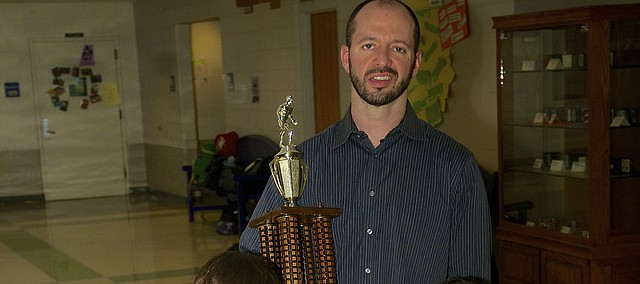 As he watched video of himself and teammates wrestling at this weekend's 4A state championship meet at Salina, Jon Pratt was in a past vs. future place familiar to many high school seniors.
One minute Pratt was happily reliving his tough 1-0 decision that earned him a state title championship at 152 pounds, a win the ensured Baldwin High School would claim its first team state title. The next, he was speaking of his post-high school future.
Wrapped up in both is Baldwin High School wrestling coach Kit Harris, who guided Pratt and his teammates the season to the school's first state championship.
"He sparked us," Pratt said. "He always made it fun at practice, although it was equally divided with the work we had to do. He always kept it in perspective."
With a little prompting, Pratt shifted his focus to the future. Late this summer, Pratt will head west for Northwest Kansas Technical College in Goodland to enroll in a two-year electrician program with a wrestling scholarship.
Harris was central in that decision, Pratt said.
"Coach Harris referees college meets," he said. "Coaches ask him about his wrestlers. The Northwest Tech coach approached him and then contacted me. I went there for a visit. I liked it. i didn't like the drive, but I liked the school."
Just a few minutes earlier, Harris spoke with senior Joel Halford about his future. He, too, could wrestle on the next level and could attend Northwest Tech with Pratt if he wanted, Harris said. But sensing some reluctance on Halford's part, he advised him to be straight with the program's coach if he had no interest.
He would think about it awhile before exploring college further, Halford said.
Halford brought home a bronze medal from state, winning the consolation match at 182 pounds with a late reverse. Because it came against an opponent from runner-up Chanute, it proved to be the difference between the team's state title and a second-place finish.
His records weren't that good as an underclassman because he regularly wrestled in heavier weight classes so he could be a member of the varsity, Halford said. The experience he gained in those tough matches and the coaching tips he got from Harris were keys to his success as a senior, he said.
"He saw that I was good at riding legs and encouraged me to work at that," Halford said. "He always pushed me, but didn't go too far. He kept pushing me through the off season. He was always very supportive."
Supportive is a word 2012 BHS grad Andrew Morgan used when speaking of Harris and his program. Morgan won an individual state championship his senior year and watched this years when his younger brother Thomas Lisher won state gold at 138 pounds as a sophomore.
"I love Coach Harris," Morgan said. "He's meant everything to me. He gave me confidence and encouragement."
That's an attitude many of his former wrestlers share, said the coach's wife, Sarah Harris.
"It's amazing to me how many of his wrestlers stay in contact with him, call him for advice or call him in advance about going to the wrestling room with him to help coach," she said. "Winning a state championship is incredible, but his success is the many young men who have gone through his program and what they've learned from him. It's so neat they still have a relationship with him and such fond memories."
All successful coaches put in a lot of time with their programs, overseeing the development of freshman and junior varsity players while daily preparing varsity teams. Wrestling takes that time commitment to another level. Saturday meets start as early as 9 a.m. and end in the late afternoon or early evening, especially when a school takes a full team of competitive wrestlers. Sarah Harris acknowledges it was a time commitment for her husband and family but "not a sacrifice."
"I enjoy that he is doing what he loves," she said. "It's always fun to go see him do what he loves and is so good at."
Harris' commitment doesn't end with the season or at the high school's doors, said Baldwin High School Principal Rob McKim, noting Harris is also the coach at Baldwin Junior High School and like all the high school's coaches runs off-season and summer conditioning and open practice sessions. He is also helps with the Baldwin City youth program, is active with the Kansas High School Wrestling Coaches Association and regularly puts together teams for such summer tournaments as the Kansas Sunflower Games and last summer's Midsummer National Bash in Fort Worth, Texas.
Harris also provides an example to his young journalism students with his use of social media. He has more than 1,200 followers on his personal Facebook page and the Baldwin High School wrestling page has another 900 plus. Harris cranks out daily Tweets and emails on his team and its members, the accomplishments of BHS alumni, the progress of Baker University wrestling and all things of interest to wrestling enthusiasts.

"He promotes wrestling very well," McKim said. "It's never about him; it's always about the kids."
Harris returned 16 years ago to coach at the school where he wrestled his way to a sixth-place state finish as a senior, one year before they started awarding medals for fifth and sixth place. His older brother, Jay Harris, was Baldwin's first state champion and still the only wrestler to record an undefeated season.
Success followed his return. Baldwin sent a record eight wrestlers to the state finals in 2012 and two returned with state championships. The Bulldogs have established themselves as the dominant program in the Frontier League, winning four-straight league titles.
"He has had numerous top-10 finishes and individual state champions," McKim said. "This has been building for awhile."
His assistants and friends, Kip Clark, Nick Rockhold and Colby Soden, made that progress possible, Harris said.
"We are all a group of head coaches, as I see it," he said. "We confer and discuss everything. We try to make group decisions and work together with everything we do. We also involve the captains in that process, as well. The kids all have the utmost respect for our assistants because of how hard the coaches work for them."
Harris said he knew before the season, this year's team had the potential to be very good.
"I knew we could be special, that's why I put in to host the regional. I knew we had the chance to win state."
It was a thrill to see the team come together the past month and sweep through league, regionals and state, Harris said. The shared confidence and team spirit lifted the performance of his wrestlers in numerous close matches during the title run.
Those moments make the time spent in the school's wrestling room worthwhile, Harris said.
"It's like my wrestling home," he said. "It gets in your blood. I just can't get enough of seeing kids work hard with the goal of earning gold."