Construction to close
CR

1055 on March 23 north of Baldwin City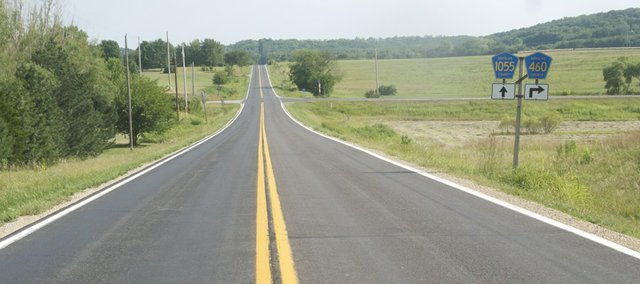 Sections of the popular route to Lawrence through Vinland — and, at times, the whole route — will be closed for much of the coming construction season as Douglas County Public Works undertakes a three-phase improvement of the road.
Although weather could change the schedule, the plan now is to close CR 1055 on March 23 from just north of the Baldwin City limits at North 400 Road to North 600 Road. Both intersections would stay open, said Keith Browning, Douglas County Public Works director.
The work will include replacement of narrow culverts with wider ones south of the North 500 Road intersection and reconstruction of 1055 for about half a mile south of that point, Browning said.
Motorists on the route will see activity near Baldwin Hill starting March 9 as crews start removing trees near the roadway to improve sight lines with the goal of reducing the deer collisions that plague that section of the route, Browning said. The crews are getting an early start on that effort because the Kansas Department of Transportation, which is paying for that part of the project, is complying with a U.S. Environmental Protection Agency policy that northern long-eared bat habitat not be disturbed from April 1 through the summer.
The southern section of CR 1055 will be reopened when that work is finished in late April and will remain so until it is again closed June 1. At that time, work will start on the replacement of a large culvert over the stream just north of North 500 Road with a 75-foot signal-span concrete bridge. Browning said the bridge should be complete and the road re-opened by the Maple Leaf Festival.
Other planned improvements will close other sections of the road during the coming season, Browning said. Signage will be posted seven days before any section of the road is closed, he said.
That would also include the installation of wider culverts with a total of eight replaced between Baldwin City and Vinland. Other upgrades on the route include:
Installation of paved shoulder at the intersection of N. 600 Road. The paved shoulder will start 250 feet south of the intersection and carry on 200 feet to the north of the corner.
Reducing the steepness of ditch slopes.
Reconstruction of 1/2 miles of roadway south the Vinland corner.
Work will conclude with the repaving of road between Baldwin City and the Vinland corner.