Baldwin City Fourth to feature flags, free swim and fireworks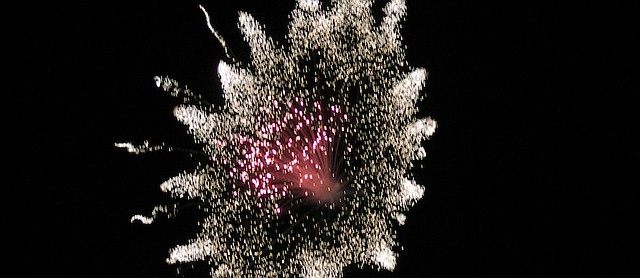 The Baldwin City Recreation Commission has full afternoon and evening of entertainment planned for the community on the Fourth of July, concluding with now traditional fireworks show.
Steve Friend, BCRC executive director, said the fireworks show will start with the onset of darkness at about 9:30 p.m. Once again this year, the fireworks will be set off on the hill to the west of the Baldwin Elementary School Intermediate Center, 100 Bullpup Drive. Residents are invited to bring lawn chairs to watch from the BESIC parking lots or from the ball fields to the south.
Friend said $5,000 of fireworks will be shot up in the show, which should last about 30 minutes. The show is free, but the BCRC will ask for donations to help with the cost of the 2016 show, Friend said.
The BCRC is also treating the community to a free day at the pool, which will be open from 1 to 5 p.m. on the Fourth, Friend said. Activities will include a deejay, games with prizes courtesy of the pool's staff and free hotdogs. Set up on the grounds near the pool will be a waterside and a harness jump, in which children can perform leaps, twists and other stunt men like feats will strapped into a harness, Friend said.
As is tradition in the community, residents will wake the morning of the Fourth to a full display of red, white and blue through the efforts of the local Boy Scout troop, American Legion post and Masons lodge. Larry Francq, adjutant American Legion Post 228, said the Palmyra Masons Lodge again provided the money thanks to donations from Baldwin State Bank, Kansas State Band and MidAmerica Bank for the small flags the post ordered to be place the morning of the Fourth on Baldwin City lawns. Local Boy Scouts will help with that effort and with the placing of larger flags in on light pole sconces along Eighth and High streets, he said.