Lumberyard Arts Center theatre class to perform 'Wizard of Oz'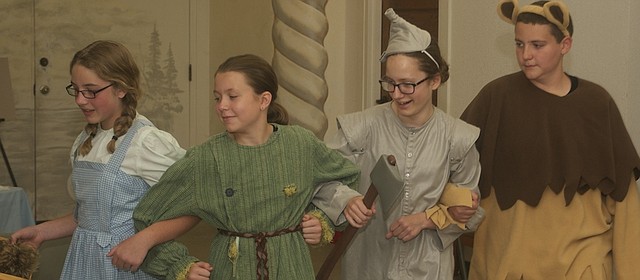 During an improvisation session at the end of Tuesday's Lumberyard Arts Center's summer theatre class, Jennifer Glenn reminded her young students the "default" emotion for their characters in the exercise was anger.
Few of the young actors brought that to their off-the-cuff skits, although they did fully emote grief over a lost donut hole, the joy of being a rock star and smug satisfaction with their awesome flexibility.
The improvisational session wrapped up a three-hour rehearsal for a performance of "The Wizard of Oz," the 19 youngsters will perform at 7 p.m. Friday at the Baldwin Junior High School Performing Arts Center. That performance has been the focus of the class since the participants ages 8 years through junior high first met June 13 to audition for parts in the play. It's importance was evidenced by Glenn's parting words to the youngsters Tuesday to study their lines hard that night.
"They are doing great for a bunch of lazy actors who aren't studying their lines," Glenn said near a group of her students to reinforce her point. "Really, they've done everything I've asked of them. They're doing great."
Despite the play's importance to the class, the two-week experience was also something of a theater camp in which Glenn brought teaching tools such as the improv sessions.
"We do that at 11:30 (a.m.) to give them a break before they leave," Glenn said. "But also because they need that experience, vocabulary and other acting experience."
Glenn's students said her methods work.
Zoe Ortiz, 12, who revealed she gets a melt-down death scene as the Wicked Witch of the West, said she's learned a lot from Glenn through the play rehearsals and improv sessions.
"I learned acting isn't play acting," she said. "It's serious. You need to become and know your character."
Zoe Thomas, 12, said she's learned to "project" as she rehearsed for her role as Dorothy. That means making sure her voice is heard but also revealing her character through speech and actions.
"I've learned to move like Dorothy and how to add lines that my character would say," she said.
Glenn and Wendy Conover, Lumberyard Arts Center programing director, said the play the children will present is closer to the L. Frank Baum's book than the 1939 classic movie. The biggest difference is it's not a musical.
"Maybe someday we'll get to do a musical" Conover said. "But it's wonderful the school district is letting us be in this place (the Performing Arts Center) and using it for such a good educational experience."