Baldwin school district partnering with Greenbush in virtual program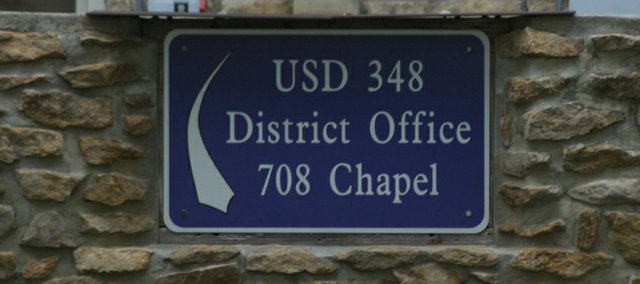 The Baldwin school district is rebooting its little-used virtual school program with the hopes of attracting more students.
Baldwin Superintendent Paul Dorathy said the district was having difficulty keeping up with all the paperwork necessary to maintain the virtual program it has offered the past three years for high school classes.The program also wasn't getting much traction with only a "handful" of students taking advantage of the opportunity to take classes online, he said.
As a solution to both concerns, the district has entered into a partnership with Greenbush, the Southeast Kansas Education Service Center, for a new and improved virtual program, Dorathy said. Although Greenbush had a role in the old program, it will be much more involved now, taking over administrative duties such as enrollment and the day-to-day management of classes.
Dorathy said the virtual program would be offered to students taking ninth- through 12th-grade classes in the 2015-2016 student year, but the goal was to make it available to K-12 students in the future. One important piece the Greenbush virtual program offers that the district's in-house program did not was the opportunity for adult education classes.
"It does give people the opportunity to come back and finish their high school diploma," Dorathy said. "It's a fully accredited diploma from Baldwin High School."
The program comes with no costs to the district and could be a source of additional state revenue in the future, Dorathy said.
In addition to adults looking to complete their diplomas, the program could appeal to homeschoolers, those with physical limitations that make attending school a challenge, or those students who do better academically in an at-home environment, Dorathy said.
Administering the program is former Eudora school district superintendent Don Grosdidier, now Greenbush director of alternative learning services. What makes the virtual program different than the one Baldwin High School offered and those available elsewhere is the onsite support available at the Greenbush's Eudora Virtual Learning Center. Students enrolled in virtual classes will be able to communicate with instructors online or come to the learning center for face-to-face consultation.
"If they are getting behind, teachers can require them to come in," Grosdidier said. "There's a little more accountability and monitoring."
Also new is the opportunity to access a Greenbush laptop computer for $15 a semester, Grosdidier said. That is the only cost to students for enrolling in the program unless they take advance placement courses, he said. The state provides districts $5,000 per student enrolled in the program, which passes onto Greenbush, he said. That is more than the state's per-pupil base payment rate, he noted.
Greenbush has found it takes students from 28 to 30 hours to complete a half-credit semester class, but students have flexibility about how quickly they work through classes, Grosdidier said. Classes are divided into sections, and students must prove efficiency by passing a quiz on a section before moving on to the next one, he said. Section quizzes are generally taken online at home, but finals are proctored web-based tests taken at Eudora, Grosdidier said.
"Many students set up a schedule of one class at a time, focus on it and then move on to the next," he said. "Accelerated students can move through quickly, but it's a challenging curriculum."
Web-based content includes videos of teachers lecturing on topics.
There are some advance placement classes available, and Greenbush is currently working to offer high school and college dual-credit classes, Grosdidier said. In attempt to boost enrollment, Greenbush plans to market the virtual program in the coming months, especially through Facebook and social media, Grosdidier said.
Students have to be enrolled in the program by Sept. 15 so that they can be reported to the state, Grosdidier said. Most will have started taking classes before that time.
Those interested in taking the virtual classes should call Leonard Scotto or Angie Miller at 785-542-1278 at the Eudora Virtual Learning Center or email them at leonard.scotto@greenbush.org or angie.miller@greenbush.org.
The Eudora school district is now part of the program offered at the Eudora Virtual Learning Center with the Baldwin, Louisburg and Pleasanton school districts, Grossdidier said. But Eudora did have its own virtual program and adult learning center for a number of years. With that background, Eudora had 29 students virtual learning students last year.
"I don't think we'll have anything like that at Baldwin the first year, but we'd be really excited with 10," he said.
Dorathy said district officials would be patient as they monitored local interest.
"It's a no-lose situation for us," he said. "We're not expending anything to have the program out there, but there's the possibility it may offer additional funding in the future. It gives us the opportunity to provide a service to students who don't don't fit the traditional brick-and-mortar environment or those people who want to finish their high school diploma."