Work to resume July 6 on
CR

1055 north of Baldwin City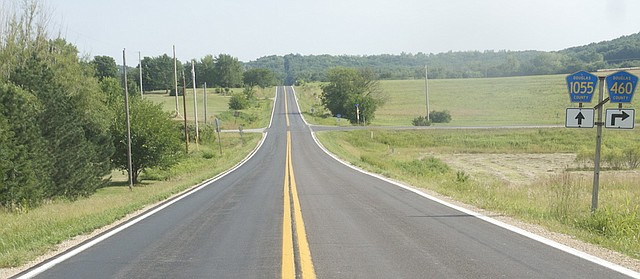 Work on Douglas County Road 1055 north of Baldwin City is scheduled to resume after the Fourth of July weekend after heavy spring rains have delayed the start of the final two phases of a season-long series of projects to upgrade the safety of the road.
Douglas County Public Works director Keith Browning said Hamm Construction won the contracts for the final two phases of construction on the popular route that connects Baldwin City to east and central Lawrence destinations. The remaining work on CR 1055, which includes replacing a box culvert with a bridge just north of North 500 Road and the asphalt resurfacing the the blacktop from the Baldwin City limits to Vinland, is now slated to start July 6.
Despite the late start, CR 1055 should be reopened in time for the Maple Leaf Festival.
"We fell it will be," Browning said. "We plan to be done in mid-October, just before Maple Leaf in the third weekend of October."
Those driving CR 1055 on the busy Maple Leaf weekend will see improvements in safety. Upgrades started this spring with the removal of timber at the bottom of Baldwin Hill to improve visibility in an area with a high number of vehicle-deer collisions. Other completed safety upgrades included the replacement of narrow culverts between Baldwin City and Vinland with wider ones and the installation of paved shoulders on CR 1055 at the intersection of North 600 Road.
Still on the season's work schedule are the replacement of existing asphalt and installation of shoulders for a half-mile section north of North 500 Road and the patching, milling and overlay of the rest of CR 1055's asphalt surface between Baldwin City and Vinland, as well as the construction of the new bridge. Guardrails on the wider new bridge will also contribute to CR 1055's increased safety, Browning said.
There also will be some work on the banks of the cut-through at Baldwin Hill to arrest erosion, Browning said.
The bridge's construction and the rebuilding of the roadway will close CR 1055 between North 500 and North 600 for the duration of the project, but the mill and overlay work will also necessitate periodic closings of other sections of the road between Baldwin City and Vinland.
Browning said Hamm would probably start with the asphalt work with the start of the construction on July 6 as the company waits for the arrival of the bridge's pre-stressed concrete girders, Browning said.