RG

Fiber now installing optic fiber line in Baldwin City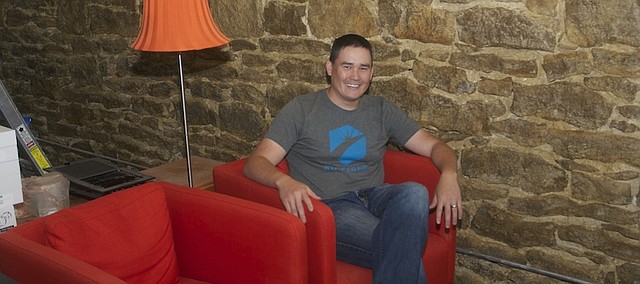 The home of sister companies RG Fiber and Reflective Group at 713 High St. was mostly empty Monday as intensive renovation continued on the 114-year-old building.
There were a handful of employees in the building in addition to Mike Bosch, the CEO of both companies. The majority of the two companies' employees work from home or remotely, Bosch said, because of the limitations the available local Internet capacity impose on the services the technology company Reflective Group provides. The near-empty office also is reflective of the "hard-decision" he and his partners, Casey Morford and Josh Strohm, made to scale back because of the local Internet limitation.
Two years ago this month, the partners announced the creation of RG Fiber to address that shortcoming. To the cheers of many and the skepticism of a few, Bosch said, the company would bring gigabit capacity fiber-optic cable service to Baldwin City.
The company is now on the cusp of realizing that goal. Conduit, through which fiber cable later will be threaded, is being installed in the community and on a route to Baldwin City through two cities RG Fiber will eventually provide service to: Eudora and Lawrence. The line RG Fiber is installing will extend from existing optical fiber line near Eudora to Lawrence along Kansas Highway 10 and then south to Baldwin City. Fiber cable leased to the east will connect to a building at 1102 Grand Ave. in Kansas City, Mo., the hub through which all regional gigabit traffic accesses the global Internet.
"We're piecing this together through leases or installing our own," Bosch said. "We'll own the 20 miles we're installing from Eudora through Lawrence to Baldwin City. We'll light up 10 gigabits, which is overkill but fun."
Flyers are being distributed in the community alerting residents where fiber is being installed. The installation process uses a horizontal drilling technology employing high-pressure water to bore holes for the conduit, Bosch said. It's a much less invasive process tha, digging trenches and results in a product with far greater reliability than aerial cable, he explained.
Existing underground utility lines have been mapped out to avoid problems, but that effort doesn't include sprinkler systems, homeowner-owned sewer laterals and an occasional forgotten public utility line, such as a waterline that was recently damaged.
"The city didn't even know it existed," Bosch said.
Bosch encourages residents to mark their laterals and sprinkler systems to avoid problems or call the company at 785-594-5414 with questions. He also asked residents not to remove flags placed to reveal the location of underground lines.
The new line from Lawrence will terminate at RG Fiber's downtown office and then be distributed out to the community. The first customer will be Baker University, both the campus and the sports complex near Liston Stadium, Bosch said. It will then spread out in the community along RG Fiber's line and those the company is leasing from the Baldwin school district, which link the district office on Chapel Street to the elementary schools on the west side of town and the junior high and high school campus on the community's northeast side. Future underground cable lines will branch from those lines to serve additional neighborhoods.
It will be a race to see how many of the more than 400 local customers who have made advanced registrations for the service can be online before Christmas, Bosch said.

"The focus will be on lighting up businesses first," he said. "We don't want other businesses experiencing what we did because of their Internet service."
Baldwin City is also the first priority, ahead of Eudora, which will be the next community RG Fiber serves, and then Lawrence, Bosch said. RG Fiber plans to install cable along busy business thoroughfares such as North Second, Sixth, 23rd and Iowa streets in Lawrence, Bosch said.
 All of that adds urgency to the ongoing renovations at 713 High St. Bosch said the ground floor will be home to RG Fiber, and Reflective Group will occupy the second story.
The remodeling effort has removed the plaster for the walls and exposed the west wall's original limestone and the brick of the east wall. Much of those walls will be left exposed, as will the overhead beams that support the second floor. The use of modern design components will complement those century-old construction materials, Bosch said. That's befitting a building that has had a rich history in downtown Baldwin City since W.F. Osburn constructed it in 1901 and will now be the headquarters for two growing high-tech companies, he said.
"We're excited about having a grand opening to show off what we've done here," Bosch said. "I learned when I researched it that there is quite a history behind this building and Dr. Osburn that we hope can be retold."
Two framed-in rooms already claim space on the ground floor. One is set aside for a conference room, and a second will house the already-ordered brains of the gigabit Internet system. Bosch said the room is sealed so the oxygen level can be lowered as a hedge against any fire damaging the system.
The remodeling includes an area near the front entrance furnished with a coach and chairs where customers will be able to get hands-on experience with gigabit Internet, Bosch said.
Those future visitors can expect to find a far busier office.
"We're going to have to hire quite a few fiber installers and customer support people," Bosch said. "We're getting quite a response from Eudora and Lawrence. That's driving the need to hire additional personnel."
RG Fiber's design team labored to offer Baldwin City gigabit Internet equal to that to that offered in metropolitan areas and remain affordable, Bosch said. There success in that effort should make the community's telecommunications competitive with all cities in the region, regardless of size, he said.
"I'm really excited about what we can do when we get access to gigabit Internet and how innovation can take off from there," he said.