Baldwin school board approves raises for classified staff, adminstrators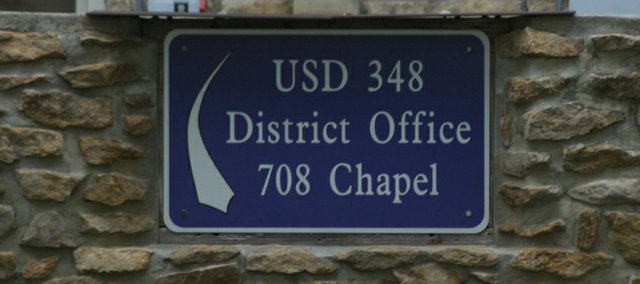 With the long Kansas legislative session concluded with no additional cuts to the state's school districts, the Baldwin school district on Monday offered raises to its employees.
The board and its teachers had already came to an agreement for a contract for the next school year with the understanding it would be revised should funding for K-12 education be cut as the Legislature looked for a way out of a $400 million budget hole for fiscal year 2016. There was a possibility last week the Legislature might not pass any new taxes and leave Gov. Sam Brownback the task of making the cuts needed to balance the state budget, a move that would have cost the Baldwin school district $545,000. That was avoided Friday when the Legislature approved a $384 million tax increase that relies heavily on sales taxes and taxes on cigarettes.
Brownback must still identify $50 million in cuts to balance the state's 2016 budget, but K-12 education will be exempt from those cuts, Baldwin Superintendent Paul Dorathy said.
The Legislature's action meant the district's approved contract with its teachers could stand. The agreement gives teachers a step raise of about $800 and a stipend of $500 to those teachers who have maxed out on steps. Dorathy said the agreement came with an added cost to the district of $84,000.
On Monday, the board followed up that agreement with approval of 2 percent raises for classified personnel and administrators for the 2015-2016 school year.
The action came on an evening the board had no new business on its agenda for a meeting that was the last of the current school and fiscal year. Dorathy looked ahead to the next year by reviewing and assessing progress on USD 348's district focus and its five areas of emphasis.
The five areas of importance serve as an action plan each year for improvement in those areas. This last year they included college and career-ready curriculum transition; more opportunities for classified staff training; developing and maintaining an online enrollment system; integration of student growth measurers as part of the teacher evaluation process; and development of a plan to use data to guide staff development.
Progress was made on all those, Dorathy said. For example, he said Baldwin High School students looking toward college have greater opportunities for AP and college credit courses, and those exploring careers in the trades can now travel to Washburn Tech in Topeka, Neosho County Community College classes in Ottawa or Johnson County Community College. The online enrollment option was realized last summer through a partnership with the local technology company Reflective Group. A new version was set to go live on July 6, which would be easier for parents to navigate and provide the district with better reports, Dorathy said. Again this year, those parents or guardians enrolling students before Aug. 1 would receive a $10 discount in student fees, he said.
The superintendent went point-by-point through the much longer district focus, which serves as the district three-year strategic plan. Dorathy said that plan was due to be updated this coming year.
Dorathy recommended the discussion on developing the new district focus would start in September after the board finished with its 2015-2016 budget considerations. It was a topic best reserved for special meetings, he said.
The process of developing the current district focus involved the participation of a great deal of community stakeholders, Dorothy said. The board could go through that process again or choose another method. He added the final product did not have to look like the current document.
Some of the items in the district focus have been accomplished, such as developing a comprehensive technology plan, creating a replacement rotation for the district's bus fleet, improving district security and the remodeling of the junior high school. Others — like hiring a technology integration specialist to work with staff — have not been accomplished because of funding issues. Others have been implemented but still need more work. Dorothy placed the high school's 1-on-1 iPad initiative in that category, saying more needed to be done to make them more effective classroom tools.