Baldwin City woman in critical condition after morning
U.S.

59 crash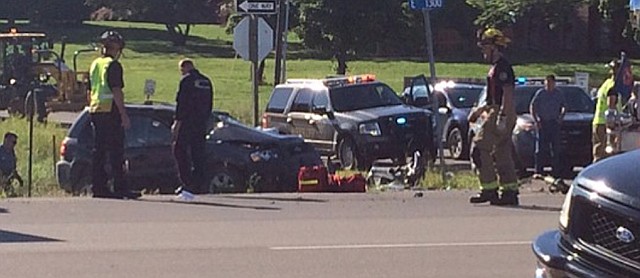 A 48-year-old Baldwin City woman is in critical condition after an accident on U.S. Highway 59 Monday morning.
Around 8 a.m., Margaret Wessling was driving north on U.S. 59 when a 71-year-old Lawrence man driving eastbound on North 1100 Road crossed U.S. 59 and struck the Wessling's vehicle, according to the Douglas County Sheriff's Office.
Both vehicles landed in the east ditch of the northbound lane of U.S. 59. Emergency responders had to extricate Wessling from her vehicle, the sheriff's office said, stabilizing her inside an ambulance before putting her on a Life Star helicopter to Kansas University Hospital in Kansas City, Kan.
Wessling sustained life-threatening injuries in the wreck, but the man was not injured, the sheriff's office said. Both drivers were wearing their seat belts, sheriff's office spokeswoman Sgt. Kristen Dymacek said.
The northbound lanes of U.S. 59 closed and traffic was rerouted while emergency personnel worked the scene. North 1100 Road was also closed from U.S. 59 to East 1326 Road. The roads reopened shortly before 11 a.m.