Baldwin City magician's white lie leads to business that's blowing up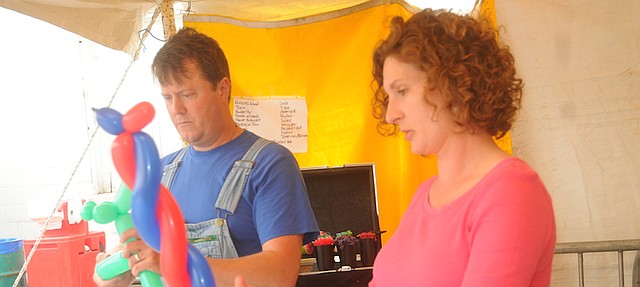 Eric Potter was icing his hands Sunday evening after three days of twisting balloons into shapes for children with his wife, Kelly, at the first weekend of Midland Railway's Day Out with Thomas.
The Baldwin City couple will be back at the Santa Fe Depot grounds Friday, Saturday and Sunday making more children happy with their Full O'Ballooney creations. It's not a business they foresaw seven years ago, but one they magically pulled out of the hat when their former livelihood went sour.
Eric was once the only magician on the Kansas Arts Commission's roster. It was a good deal for the man who had worked as a professional magician for 17 years.
"It was a big-time production that took us five to six hours to set up," Eric said. "We brought all kinds of lighting, our own PA system and the big magical illusions like the saw-the-woman-in-half box and sword stabbing basket. It was a regular little road show."
Kelly, who kept the books for the show, said Eric was booked four or five times a year for big shows by such clients as Koch Industries.
"He traveled all over the Midwest," Kelly said. "I was his assistant. I got sawed in half and stabbed with swords, put myself back together and magically jumped out of the box."
Then, early in Gov. Sam Brownback's first term, he decided to defund the arts commission, and — abracadabra — Eric was out of the big-stage magic business.
"Without the funding, it was gone overnight," Eric said.
With the loss of a significant percentage of family income, Kelly, who went to Kansas State University with the intention of one day becoming a doctor, obtained her certification to become a nurse's assistant. Meanwhile Eric, scaled down, dropping the big stage productions for smaller one-man magic shows, such as the summer reading programs he already had been doing (he performed Wednesday for the Baldwin City Public Library). It was during the booking of those that he conjured up the balloon business Kelly now manages.
"People kept asking him if he did balloon animals," Kelly said. "His answer was, 'No, but my wife does.' That wasn't true. I was scared of balloons. I'm not coordinated. I was afraid they'd pop."
Nonetheless, she signed on as the balloon part of the smaller gigs. Thanks in part to the couples' constant online marketing effort, the balloon business blew up. So much so, that Kelly made the decision to quit her nursing position because of conflicts with balloon gigs.
"I felt bad about that for a while," she said. "It's a strange commentary on the world we live in that you can take in more money twisting balloons for an hour than you can working 10 hours as a certified nurse's assistant."
The Potters decided to limit the business to the Kansas City metropolitan area, although Eric still does summer reading magic shows in western Kansas. They also moved to Baldwin City as the business was getting established.
"We moved to Baldwin City not knowing there were a seemingly endless number of events in this small town," Kelly said. "I've never seen anything like it."
Kelly concedes she and her husband have qualities that make them good at balloon twisting. She has artistic talent she's channeled into making balloon creations. The couple like children, and have four children at home — three sons from her first marriage and their 2-year-old daughter. The "magician Eric" is a people person who likes being in front of a crowd.
"We had to make hard decisions after the KAC defunding," she said. "It's worked out great for us. We're very busy and get to work with the public all the time, which 99 percent of the time is a good thing. The Thomas the Tank Engine is a great show with great kids and great parents."
Another trait the couple shares that makes the business a success is their commitment to marketing, both online and in the flesh.
"Everybody thinks we just work weekends, but it takes online marketing, keeping in communication with clients and reaching out to new clients," Kelly said.
They're obsessive keeping their names and that of their websites — fulloballooney.com and ericvaughnmagic.com — on top of search engines, Eric said.
"It's kind of hard to take a vacation," he said. "When I get a message on the cell phone, I want to answer it right then. It's easy for that person to look for someone else."
Their presence at Day Out with Thomas was an example of Kelly's marketing dedication.
"I followed a hunch I had and twisted up a Thomas the Tank Engine to take to the Kansas Belle Dinner Train office, thinking they were in behind Day Out with Thomas," she said. "They told me it was a Midland Railway thing, but Allen Kinsley (Midland director of marketing) was sitting right there in the office."
Kelly said Full O'Ballooney now does balloon decor, which creates arches, bouquets and wall decorations from balloons. Some of her big clients are Kansas State and Google Fiber.
The growing business gives Kelly more opportunity to fulfill a lifelong goal.
"I came from a small town," she said. "I didn't know there was such a thing as a balloon twister. My whole life, I wanted to make people feel good. When I was young, that meant being a doctor. I do make people happier with this, even if it's just for a little while."