Lumberyard Arts Center plans Love Boat-themed summer fundraiser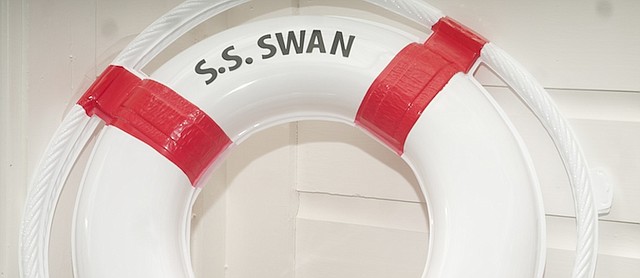 The Lumberyard Arts Center will give the community's crooners a chance to share their talents for a good cause.
Lumberyard Arts Center board member Sandy Cardens said this year's "The Love Boat"-themed summer fundraiser will feature karaoke, something that hasn't been available in Baldwin City for about five years with changes of the downtown restaurant scene.
The fundraiser will start at 7 p.m. Saturday, Aug. 8. Tickets are $75 for individuals or $125 for couples and can be purchased online at info@lumberyardartscenter.org then clicking on the donation icon. The tickets are good for two free drinks, a meal of cruise ship-inspired food prepared by caterer Tanya Sieber, bingo cards and a chance to win door prizes.
For last three years, the arts center built its summer fundraiser around movies, first with "Casablanca," and then Alfred Hitchcock and James Bond films. The year, it's turning to the television show "The Love Boat" for inspiration. The show, which weekly followed the humorous and romantic adventures of the cruise ship's crew members and passengers, aired from 1977 through 1987.
"We're going to transform the arts center into a cruise chip as much as possible on dry land," Cardens said. That transformation will include the placement of deck chairs about the Lumberyard, placing portals on wall and covering windows with scenes of tropical beaches.
As with the past movie-based fundraisers, the Love Boat theme allows fun-loving attendees to get into the spirit by dressing up as characters from the show. Cardens said she expected Love Boat Captain Merrill Stubing to make an appearance during the evening and take a turn at the karaoke microphone. Shelly Todd and Gary Keller will provide live entertainment
Sieber's menu includes dishes of shrimp and salmon, Cardens said. In keeping with the Love Boat theme, there will be a bar offering pina coladas, margaritas, beer, wine and non-alcohol cruise drinks, she said.
The three movie-themed fundraisers all included a gaming room where attendees could play roulette or backpack for the fun of winning worthless house chips. This year, bingo will take the place of those casino games while giving players the chance to play for prizes, Cardens said.
All money raised from the event will be used for the arts center's programming.