Baldwin Junction man remembers sporting life of following the bouncing ball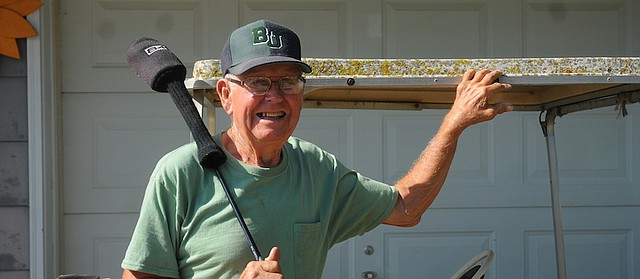 When golfers tee up at Sunday's Baldwin Open, they will all be hoping to duplicate the feat of C.T. Taul in 1989.
Taul owns the only hole-in-one in the history of the Open. The feat was recorded 26 years ago, but it remains fresh in the mind of the 91-year-old rural Baldwin City man.
"It was the par three, fifth hole," he said. "Charlie Richards, the old Baker University football coach, he saw it go in. I was thrilled. I hit it with a three wood — I've still got it."
It's one life event Taul doesn't need to refer to his dairies to remember. However, he made note of that and other daily events, including other memorable rounds of golf, in the diaries he has kept for more than five decades. The three wood is in his garage of his Baldwin Junction home with all the other clubs he has owned since being introduced to the game in the late 1960s.
"All my life, I liked anything that had a ball that bounced," he said. "My good friend was Max Kennedy, who ran Alvamar Golf Course in Lawrence. His wife and I worked together. It was about the time the kids went to college, and my wife and I had spare time to do things."
Once introduced, Taul was hooked, He had his late wife, Betty, belonged to several golf clubs in the area and played "all over." The Baldwin Open was always on their schedule.
"I never missed it," Taul said. "I remember one time someone called and said my cows got out. I went home, got the cows back in, drove back and finished."
HIs memories of the local golf scene predate the Baldwin City Municipal Golf Course, home of the Baldwin Open. He remembers a course north of U.S. Highway 56 on what is now the Fire Tree subdivision, and, later, a course around the old Baldwin City Lake.
"There were a lot of sporting things at the old lake," he said. "There were ball fields there, too. Guys would walk two and a half miles to play there."
Taul was among the young men who played there and at other long-gone Baldwin City ball fields. He played basketball and football at Baldwin High School and was in school when the Bulldogs played their first games in the South Gym. Last week, the gym on Chapel Street was added to the National Register of Historic Places with a citation noting it was built as a Works Progress Administration project during the Great Depression.
"I was in high school when it was built," Taul said. "I remember the WPA guys would ride up from a camp in Ottawa on an open flatbed truck, dangling their feet over the sides of the bed."

He "wasn't the greatest" at football or basketball, Taul said. His true love was baseball. As a teen, he played on a summer team that played in an eight-team Baldwin City league and competed against other leagues the same size in Ottawa and Wellsville. After graduating, he played town team baseball.
"In those days every town had a big annual picnic," he said. "I remember going with a Baldwin town team to play at the La Loup picnic. Before we played, the Kansas City Monarchs played the Indianapolis Clowns. I don't remember what year it was, but it had to be from 1937 to 1940. I bet you Satchel Paige and Buck O'Neil played in that game."
On another occasion, he played against brothers Mort and Walker Cooper, Missouri natives who starred in the 1940s on St. Louis Cardinals championship teams, he said.
He continued to play town team baseball and softball into his 50s, Taul said. He was into the sports so much he once considered building a Baldwin Junction field of dreams.
"One time we had a dream of building a big ball field out here," he said. "We had it staked out and everything, but it never got done."
The final round bouncing object to fascinate him was a golf ball, but he admits there was more to the enjoyment than competition.
"Like I always said, it's the people you play with that makes golf fun," he said.
His golf friendships included the Kennedys, longtime friend and former Baldwin City postmaster Marvin Jardon — with whom he played an annual New Year's Day round with at the Baldwin City course — and, foremost, his late wife.
"In the fall after the farming was done, we'd get cards that let you play all over the state," he said. "We'd start in eastern Kansas and work our way west."
At 91,Taul has decided it's time to give up actively farming his 560-acre farm. That decision came about seven years after he was forced to give up golf, first to attend to his wife during her final illness and then because of a knee injury he suffered climbing down from a tractor. Nonetheless, he credits sports for keeping him fit and active.
"I think it did help," he said. "It gets you away from things and lets you relax."