Face to Face: Shawn Ellis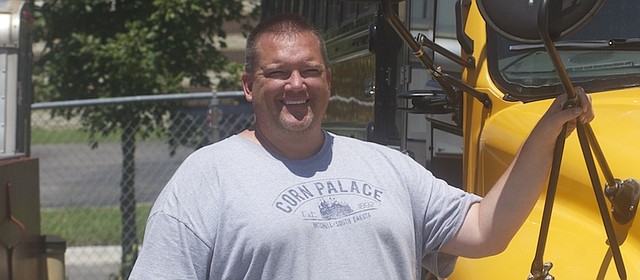 Shawn Ellis
Born: Ellis was born in Lawrence but grew up in Baldiwn City.
Family: Daughters McKenzie, 17, and Paige, 14.
Education: Ellis graduated from Baldwin High School and earned a bachelor's from Emporia State University in recreation.
Hobbies: "I like to play golf, fish and read. I read a lot."
Career: After graduation, Ellis took a job with the Herrington recreation department. After moving back to his hometown, he worked with the Baldwin school district maintenance department. Last spring, he was named the district's transportation director.
Digging deeper: The job of district transportation director is a bit more laid back in the summer, Ellis said. He doesn't have to be at the district bus barn at 6 a.m. to see drivers off, take calls from parents or check on weather conditions, as is required in winter months. But there is still plenty to of brake jobs, tire replacements and rotations and other maintenance required to get the district's bus fleet prepared for the Kansas Highway Patrol inspection in early August and ready to roll with the start of school a couple of weeks later, Ellis said.
When asked what was his favorite part of the job, Ellis pointed to the transportation department's employees. "My drivers and Al Pierron, my mechanic. The people are definitely what I enjoy most."