Baldwin City team wins Sunflower State Games wrestling team championship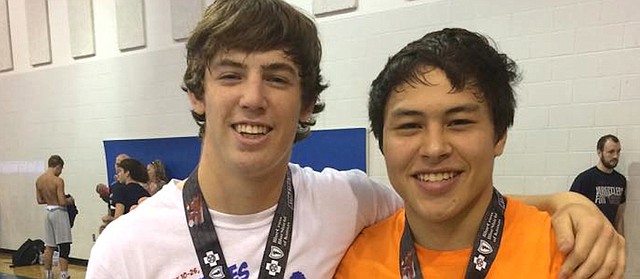 The community added its second state championship of the year as a team of Baldwin City wrestlers won the team championship at the Sunflower State Games.
The championship in the event contested last weekend followed the Baldwin High School wrestling team winning the 4A state title in March. The team that competed in take-down and folk-style events last weekend at the games in Topeka included members of the high school team, as well as youth wrestlers and adults, said BHS wrestling coach Kitt Harris.
The team had placed at the games before, but this is the first year the Baldwin City team won the title.
"We had a really good group go this year," Harris said. "The kids really got into it. We've had workouts throughout the summer and daily workouts the two weeks leading to the tournament.
"It was great. It was a lot of fun. There was good competition, but it was also laid back. It was a good summer event."
Harris said making the event more enjoyable was the chance once again to coach past BHS wrestling team members. The event reunited Harris with Jon Pratt, a state individual champion this spring in his senior year, and BHS alum Jason Von Bargen. Adults getting on the mats were Colby Soden and Mike Hirschmann. The team roster didn't include Harris.
"I've done it a couple of times, but I'm too old," Harris said. "Wrestling is not a lifetime sport."
The Baldwin City team claimed 23 medals, six of which were gold. It scored 95 points, more than doubling the total put up by second-place Liberal.
Pratt, who will wrestle at Kansas Wesleyan University in Salina this year, and Owen Tuckfield went undefeated on their way to championships in folk and take-down events.
"They were unstoppable," Harris said. "They were dominate."
Harris will next take a Kansas team of 50 members, including 12 from Baldwin City, to the Mid-Summer Mat Mash in Fort Worth, Texas.
"We did it last year, and it was the best thing we ever did," Harris said. "They have 14 matches in two days against out-of-state competition."
The team will also have time to take in the the sights of the Dallas/Fort Worth Metroplex and will visit the National Wrestling Hall of Fame in Stillwater, Okla, on it return home.
The Sunflower Games and Fort Worth event are a big plus his high school team, Harris said.
"It's a very big thing, both the added mat time in training and competition and for team bonding," he said.
Sunflower Games results
(Takedown results listed first, followed by folk-style results)
Brayden Hirschmann, 1-2 (3rd) takedown, 2-1 (2nd) folk, Overall 3-3
Joe Faircloth, 1-2 (2nd) takedown, 1-3 (4th)fold, Overall 2-5
Josh Mayo, 0-2 (3rd) takedown, 3-1 (2nd) folk, Overall 4-3
Ryan Ware, 2-1 (2nd) takedown, 3-1 (2nd) folk, Overall 5-2
Jakob Johanning, 0-3 (4th), 0-4 (5th), Overall 0-7
TJ Hopper, 1-2 (3rd), 2-2 (3rd), Overall 3-4
Dalton Good, 2-1 (2nd), 3-1 (2nd), Overall 5-2
Cael Harris, 0-3 (4th), 1-3 (5th), Overall 1-6
Reece Williams, 3-0 (1st), 4-0 (1st), Overall 7-0
Scott Harman, 1-2 (3rd), 3-1 (2nd), Overall 4-3
Jon Pratt, 3-0 (1st), 4-0 (1st), Overall 7-0
Brandon Hoffman, 0-4 (5th), 1-3 (4th), Overall 1-7
Owen Tuckfield, 3-0 (1st), 4-0 (1st), Overall 7-0
Collin Crabtree, 0-3 (4th), 0-4 (5th), Overall 0-7
Wyatt Slavin, 1-1 (2nd), 2-2 (3rd), Overall 3-3
Colby Soden, 1-2 (3rd), 1-3 (4th), Overall 2-5
Jason Von Bargen, 2-2 (3rd)
Mike Hirschmann, 1-2 (3rd), 0-1 (4th), Overall 1-3
OVERALL TEAM RECORD
57 wins, 62 losses
GOLD MEDALS: 6
SILVER MEDALS: 9
BRONZE MEDALS: 8
TOTAL MEDALS: 23
FINAL TEAM SCORES
Baldwin, 95.0

Liberal, 45.0

Riley County, 42.0

Lawrence Elite Wrestling, 40.0

Dirty Dozen, 39.0

Concordia, 33.0

Clay Center, 28.0

The Farm, 28.0

Great Bend, 27.0

Washburn Rural High School, 25.0

Blue Valley West High School, 23.0

Junction City Wrestling Club, 20.0