Baldwin City residents dogged about fitness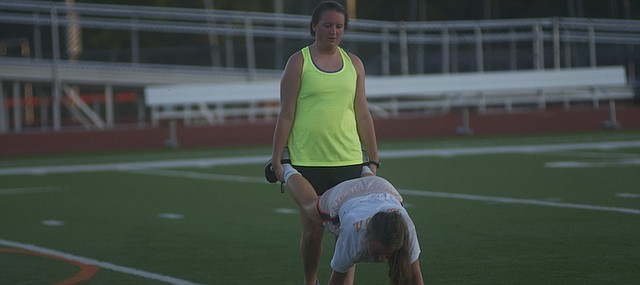 The Tuesday evening session of the Bulldog Days fitness class at Liston Stadium kicked off at 8 p.m., late enough for long shadows to cover much of the track football field and seats.
Nonetheless, the day's heat persisted. The thermometer on the Baldwin State Bank seven blocks away read 96 degrees. The heat and humidity was just another irritant for the dozen participants, all of whom went about their workouts that entailed lots of running, including one lap around the stadium track completed backward, assorted calisthenics and running steps with determined doggedness.
"This isn't easy," said George McCrary, the owner of the Baldwin Athletic Club who is offering the outdoor summer workout class for the 11th year. "This is the insane group."
Insane was a word Antonio Solomon used, too, as he completed a series of squats after running lines on the football field. He could come to the stadium to workout on his own, but found the Bulldog Days sessions worked better for him, he said.
"I like the group workout," he said. "It's good company, and they keep me motivated."
Designing workouts is what he does, McCrary said. For Bulldog Days, he makes an effort to provide variety.
"I try to come up with something different everyday," he said. "I understand people get bored. What they really want is somebody to tell them what to do and get out of the way."
The session was something of a family outing with George McCrary's wife, Cheryl McCrary, daughter, Madeline McCrary and niece, Courtney Hadl, joining in the exercises. Cheryl McCrary said she was taking it easy, and justifiably so.
"I worked out at the morning session." she said. "This is my third workout of the day."
Perhaps because of Tuesday's heat there was a small turnout of half the number who usually show up for the evening session, she said.
Early risers can workout in cooler temperatures to the 6 a.m. Bulldog Days sessions. Other than the cooler temperature, the workouts are the same and take advantage of a stadium feature.
"The steps are the key, Running steps burns more calories than anything else you can do," said McCrary, demonstrating the high leg lift required to get form step to step. "Without the steps, this would be just another running club."
The workout session's reputation is enough to attract participants from communities other than Baldwin City. McCrary said participants come from Lawrence, Eudora and Overbrook.
Bulldog Days will continue through July. Those who haven't attended are still welcome to attend.