Baldwin school district hoping 90 percent of students are enrolled online in July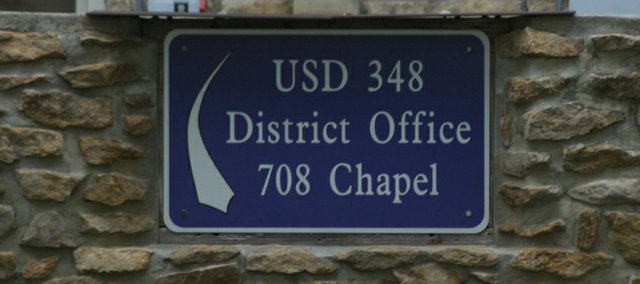 Baldwin school district parents and guardians are encouraged to enroll students this month via the district's upgraded online enrollment program, which became functional Monday.
District Superintendent Paul Dorathy said like the older version, the new online enrollment program can be accessed through a portal on the district's homepage at usd348.com.

The district introduced online enrollment last July with a program developed through a partnership with the Baldwin City tech company Reflective Group. The program was distinctive from other online enrollment offerings in that it allowed patrons to pay enrollment fees based on free and reduced lunch status. Reflective Group has since sold the program to other school districts.
About 90 percent of students were enrolled online a year ago, Dorathy said. However, only 75 percent were enrolled by the end of July.
Dorathy said the district's goal this year was to enroll at least 90 percent of its students online in July. Early enrollment helps the district with a number of planning issues from building supply needs to bus routes. But most importantly early enrollment numbers lets the district know if more teachers need to be hired to reduce classroom sizes, Dorathy said.
To encourage early online enrollment, the district is offering a $10 per-student discount on textbook fees for those students enrolled before midnight July 31, Dorathy said.
As online enrollments pick up, Dorathy will keep a close eye on kindergarten numbers. Last year, kindergarten enrollment in the district slid to fewer than 85 students. Through the district's spring kindergarten roundup, it is anticipated that number will increase to about 100 this year.
"We believe we have it adequately staffed, but it wouldn't take many more and we would have to look at adding a teacher," Dorathy said. "The budget might not support more staff, but we try to keep a contingency so that if class sizes increase we can hire another teacher for at least a year. It makes it so much easier to plan if we know earlier than later what our enrollment numbers are."
Last week, the Kansas Association of School Boards issued a press release stating there were 500 more teaching positions open in the state this year in early July than the same time a year ago. The press release also stated there was a smaller pool of applicants as teachers retired or looked at other states for jobs. In 2011-12, 399 teachers left for out-of-state jobs and 1,260 retired. For 2014-15, that had increased to 654 and 2,326 respectively, the press release states.
Dorathy said the Baldwin district has not experienced a teacher applicant pinch,
"So far, and I'm crossing my fingers, we haven't had any trouble filling positions," he said. "We hired a number of really good young teachers this year. We're lucky the district has a number of things going for it."
The district's assets include quality students who teachers are eager to work with and its location near Lawrence and the Kansas City metropolitan area, Dorathy said.
"I know superintendents to the west of us who have trouble getting even one application for an opening," he said.
Teacher retirements are up as older teachers see little benefit in working additional years because there is little chance with the status of the state's school funding for large wage increases that could significantly change retirement benefits, Dorathy said. Although that might be a concern elsewhere, the district is confident enough new qualified teachers can be hired that it has encouraged early retirements with arrangements to pay health insurance costs until retirees qualify for Medicare at age 65. The district benefits because the salaries of the new teachers are much lower than those of experienced staff members who are late in their careers.