Baldwin City artist Tom Russell dies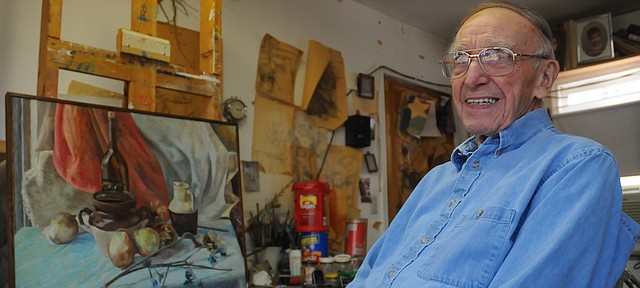 Tom Russell, who was credited with re-establishing the Baker University Art Department, died Saturday at his Second Street home at the age of 97.
The family plans a private inurnment at Oakwood Cemetery.
His longtime friend and colleague Walt Bailey remembered Russell as the man who rebuilt the Baker University Art Department after taking a teaching position with the school in 1963. Bailey, who had graduated from Baker just a few years earlier, said that was no easy task.
"When he came to Baker, he was a one-man department," Bailey said. "I know how bad it was. I graduated just a few years before he came. I graduated with just two other art majors."
In a February 2013 interview with the Signal, Russell recalled the art department was confined to four rooms in Parmenter Hall when he arrived. It worked to the students' advantage, he said, because they could really "slop around" in the space.
Russell was the right person for the job of rebuilding the art department because of his teaching abilities and the many connections he developed the previous 16 years as an instructor at the Kansas City Art Institute, Bailey said.
"His students loved him," Bailey said. "He was so generous with his time. He wanted students to slow down and look more carefully, even at their own work. He was able to show students things in their own work even they didn't see. He wanted them to see and understand.
"After he retired, I had many former students come back for a visit who I would take over to see Tom. Many times, they would bring their current work to show us what they were doing and hear what he thought about it. He was a very giving person."
It didn't take Russell long to start attracting students to art classes. Bailey said soon after his arrival Baker had to hire part-time instructors to help with the added load. One of those part-time instructors hired two years into Russell's tenure was Bailey. The two would work together, and after Bailey became a full-time instructor, they made other changes to the growing department.
"We had to completely redesign the curriculum to better prepare students for graduate school or careers," Bailey said.
In his 2013 interview with the Signal, Russell spoke of the rivalry Baker developed with Kansas University, where his good friend and painting partner Robert Sudlow taught.
"We had all sorts of students going to graduate school to Yale and everywhere — far more than KU was doing. We were in a constant battle with them to get the most students in grad schools," Russell said in that interview.
Russell also recalled when he retired from Baker after 18 years in 1983, the department had four full-time instructors and had added the Bennett Art Building for ceramics.
In the 2013 interview, Russell said he enrolled at the Kansas City Art Institute in 1936 with the support of his family after graduating from Parson High School. While at there, he studied drawing under Thomas Hart Benton, who was at the apex of his fame as a muralist and had just started teaching at the school.
Russell said he became close to his teacher and was invited to social gatherings at the Benton home. It was through these gatherings that Russell met another young artist who had been Benton's student in New York City, Jackson Pollock.
Russell said Pollock, who would gain international fame a decade later for his abstract expressionist action paintings, often stayed in his apartment complex when he visited Benton in Kansas City. The two young men maintained their friendship when Russell moved to New York after completing his studies at the art institute and occasionally spent weekends together watching over the Benton children at the older man's Martha's Vineyard home.
Russell's New York years ended when he was drafted into the Army in 1941. He told the Signal he spent the war drawing surgeries and battle wounds. While there, he studied with another artist who would gain international post-war fame, the English sculpture Henry Moore. It was also in England that Russell met and married his first wife, Monica. The couple had six children, Tom Jr., Jennifer, Spencer, Jeannie, Pamela and Tracey.
After the war, Russell moved to Shawnee, earned his master's in fine arts from the Kansas City Art Institute and then became an instructor at the school for 16 years. He moved to Baldwin City in 1978, five years after the death of his first wife. The following year he married Baker music professor Alice Anne Callahan.
The couple introduced the annual Valentine's Day Chocolate Auction to the community after seeing a similar fundraiser during a trip to Brookings, S.D., to visit Russell's son Fletcher, who was teaching at South Dakota State University. The event, which celebrated its 25th year in February, became an important fundraiser for the Lumberyard Arts Center and the Baldwin City Arts Council that preceded it.
"Tom was very generous in his support of the arts center," said LAC board member Sandy Cardens, noting he was the honored guest for two Chocolate Auctions and both times donated work to be sold at the events.
The arts center had planned a joint show of Russell and Bailey's art that was to open Sept. 25 and run through the Maple Leaf Festival. Bailey said that show would now be a celebration of his friend's life.
"To me, it felt better if we redirected it to honor Tom," Bailey said. "They've turned the entire building over to me. We're going to fill the gallery and also the open area. HIs family is instrumental in putting this together, but were going to borrow works from friends and private collections.
"He continued to paint right to the end. He found time to work a couple hours a day despite the pain. That was who Tom was – someone who would always be at work."